The Top 6 Essentials of Everyday Jewelry
A locket, a charm bracelet, a signet ring – it used to be that a woman's jewelry box was considered incomplete without these classic pieces. And while there's nothing wrong with staples from the past, today's jewelry essentials are different from what was in style in your grandmother's day. Your accessory collection should include pieces that give your everyday outfits a touch of luxury, a few that turn the simplest of styles (like your favorite denim jeans and that little black dress) into stand-out looks, and at least one that's unique to you.
Buying and owning jewelry is one of the perks of being a woman, so it's our responsibility as connoisseurs of the world's finest jewelry to let you in on the secrets to building the perfect accessory wardrobe. While we encourage you to indulge in any jewelry trend that catches your eye (statement choker necklaces and tassel earrings!), we've made a list of 6 pieces every woman should have in her arsenal. The best part? They'll never go out of style – wear, enjoy and treasure them forever.
Everyday Piece #1: A Pair of Diamond Studs
So, what makes diamond studs our #1 must-have piece? They are the most timeless accessory you will ever buy (no fear of these ever going out of style). Regardless of whether they are big or small, round or square, set in white or yellow metal, diamond studs always make a statement. Not to mention, they can easily be worn from day to night – elevating any outfit – and adding a touch of glamour to your look. Beautiful, quality stones are available in several price ranges and sizes; from understated quarter-carat stunners to three carat head turners. So if you aren't sure of which of our 6 pieces to save up your hard earned paycheck for first, know that you can't go wrong with diamonds stud earrings.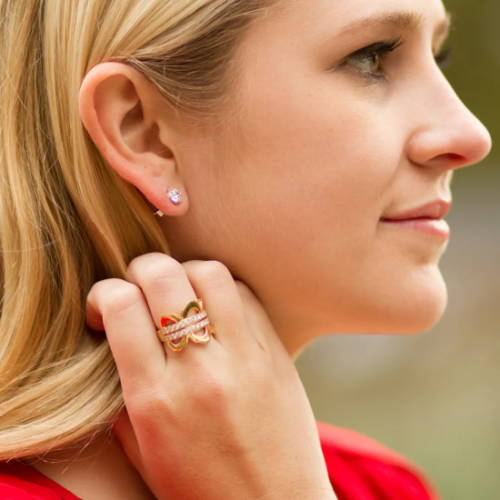 Hearts On Fire Diamond Stud Earrings
Everyday Piece #2: A Long, Chain Necklace
Perfect for layering with other necklaces, wrapping to make the appearance of two necklaces or worn singularly on its own, a long chain necklace is one of the most versatile and elegant pieces you can add to your wardrobe. Similar to how scarves and belts are worn; long necklaces are perfect over dresses, or a tunic and leggings. There are a variety of options you should consider when it comes to selecting your go-to piece, including:
Bold Styles
More than ever, we are seeing bold necklaces make an appearance in every day fashion. No longer reserved just for special occasions, it is more common to see a large necklace style paired with casual fashion.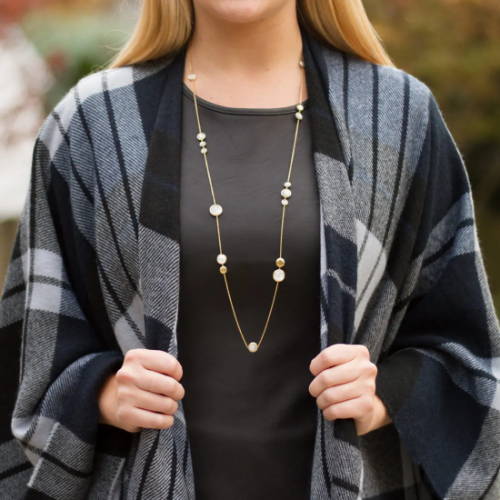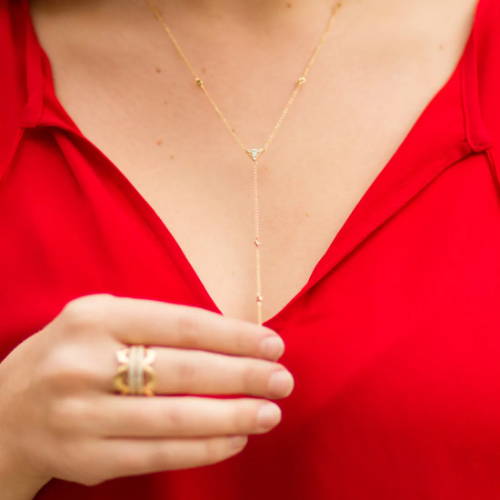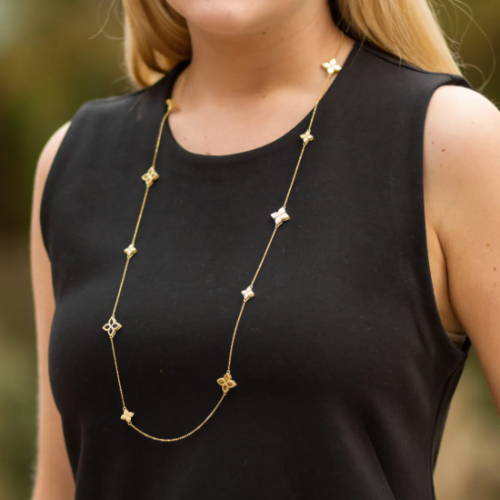 Roberto Coin Princess Flower Station Necklace with Diamonds
Everyday Piece #3: Yellow or White Gold Hoop Earrings
From statement huggies to two-inch loops, high polish or matte finish, white, yellow or rose gold, hoop earrings always look gorgeous on everyone. Sometimes, a simple hoop can add just the right amount of interest to your look, particularly when you plan to wear your hair up. A pair of discreet gold hoops ensures that even on a jeans-and-t-shirt day you still feel polished. For a style that works for both day and night, try a modest pair of diamond hoops.
Roberto Coin Classic Inside Out Diamond Hoops
Everyday Piece #4: Pearls
The pearl has been emerging from it previously traditional image for the past few years. Whether you prefer a classic strand of pearls like Audrey Hepburn or want to add a modern colored strand to your wardrobe, you can't go wrong with this timeless classic gem. Pearls have been spotted on the runway paired with denim patched outfits, military jackets and sporty sweaters. We love how the always-in-style pearl adds a feminine touch to your look, making it exquisitely sophisticated and classic.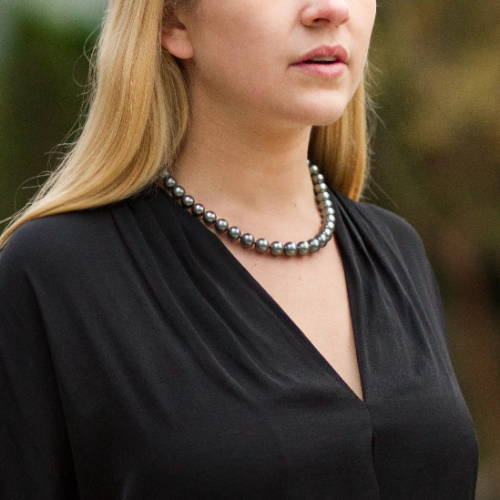 Mikimoto Black South Sea Cultured Pearl Strand
Everyday Piece #5: Stackable Rings
Stacking rings have grown in popularity in the last few years. To nail this must-have, choose rings made from different colored metals or decorated with diamonds and colored gemstones. These rings worn singularly are a pretty accent but worn together offer maximum impact. You can even mix styles, materials and shapes. Plus, there's something fun in growing your collection. Not to mention, you don't have to buy them all from one designer, you can invest in a few of your favorite styles from various collections and simply wear them all together.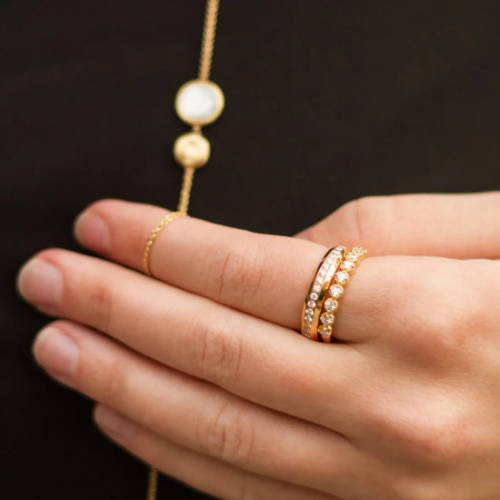 Hearts On Fire Stackable Rings (One and Two)
Everyday Piece #6: Bangle Bracelets
Bangles stacked or alone, skinny and wide, have been around forever. That is why these types of bracelets come in endless designs – making it easy to mix and match them with bracelets that you already own. However, we always hear people say that while they love the look of stacked bangles, they don't exactly know how to achieve it themselves. There are no rules when it comes to this look, but here are 3 tips on how we recommend you wear this fashionable style.
1. Only stack the bangles on one arm and leave the other bare or wear a bold ring on the opposite hand.
2. Wear one eye-catching bangle as the central point. If you don't have a statement bangle, add a menswear-inspired watch as the focal point and have other smaller, thinner bangles surrounding it.
3. Don't be afraid to use different textures or metal colors. Mix yellow, white and rose gold bangle bracelets with ones that feature gemstones.