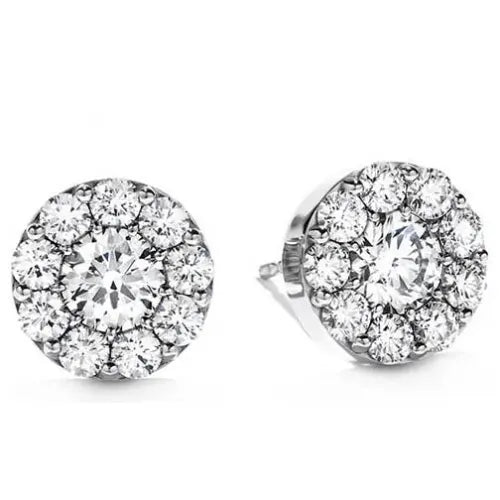 The countdown is on! You've "said yes" to the dress, the flowers, the venue and your rings. And while your engagement ring and wedding band will garner the most attention from your accessory line-up on the big day, adding a complementary bauble could help your entire outfit pop in the church and on dance floor.
This year's bridal runways were decorated with statement making earrings. And it's no wonder since glamorous colored stones stunners, delicate drops, and patterned studs all help to elongate the neck and draw attention up to the face.
For those of you who are worried about being too decked out in bling, simple modern earrings can also do wonders for an outfit and are the easiest to wear with any style. Not to mention, you can wear them for years after.
To help you narrow down your choices, we've rounded up 10 of our favorite danglers sure to make your day (and your photographs) memorable for a lifetime.
Pick #1 - Hearts On Fire Fulfillment Earrings, $2450 
These diamond studs come in a variety of sizes and price points!
Pick #2 - Suna Brothers Sapphire Stud Earrings, $6,900
With Suna Brothers expert craftsmanship, these earrings could be you something blue for the next generation.
Pick #3 - Marco Bicego Mother-of-Pearl Drop Earrings, $1,540
Something a little traditional meets something a little on trend in these pearl and yellow gold drop earrings.
Pick #4 - John Hardy Silver Drop Earrings, $395
These drop earrings add sparkle and depth to your look for less.
Pick #5 - Hearts On Fire Eclipse Earrings, $11,500
Take a little risk with these jaw dropping diamond hoop earrings handcrafted with rose gold.
Pick #6 - Marco Bicego Lunaria Diamond Drop Earrings, $3,300
If you are looking to really make a statement, these drop earrings have the perfect balance of drama, sparkle and elegance.
Pick #7 - Mikimoto Pearl and Diamond Earrings, $2,600
From the world's most renowned pearl expert, these earrings bring a wedding day's traditional gemstone into the 21st century.
Pick #8 - John Hardy Two-Tone Hoop Earrings, $595
If you are a fan of hoop earrings, this pair was made to capture your groom's attention with contrasting yellow gold and sterling silver.
Pick #9 - Marco Bicego Diamond Drop Earrings, $3,020
These versatile yellow gold earrings will easily take you from the aisle to the reception to the honeymoon without a doubt.
Pick #10 - Hearts On Fire Diamond Hoop Earrings, $1,990
If you have a rose gold wedding band or engagement ring, these classic diamond hoop earrings are sure to compliment your modern style.
Ready to complete your wedding day look? Stop by our downtown Columbia location and one of our talented staff members will help you find the perfect earrings for your budget,