Why You Might Want a Custom Wedding Band
Many people choose to design custom wedding bands for many reasons:
You have a three-stone, halo, or vintage ring style and a matching band simply doesn't exist.
You want something that is distinctive. A style that is unique to both you and your groom, and tells the story of your relationship together.
You kinda like that ring, and you kinda like another ring. Bring both styles together!
You want your rings to last a lifetime (as bands that don't match may wear down over time).
Finally… why not!?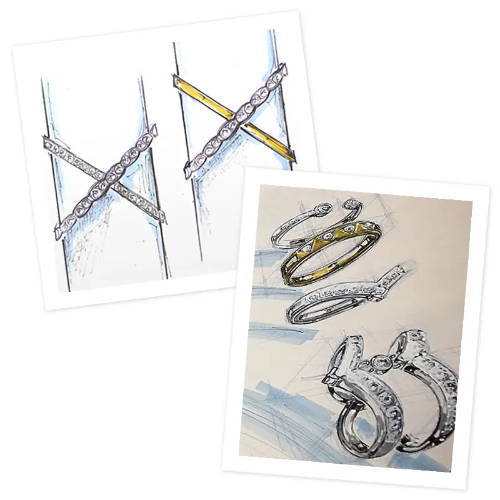 How to Design Your Own Custom Band
1. Get Inspired
You don't need to have artistic skills or know about jewelry design to know what you like. Make a Pinterest board, cut pictures out of magazines, or bookmark websites. Draw a simple sketch on a napkin, or just describe what you like. The more details you can give us about what you like (and don't like) the better your custom ring will be.
2. Explore Metal Options
The metal you choose is completely up to you, but you do want to consider your lifestyle and what it takes to keep your rings in top condition. Metals like platinum or palladium are durable and require little maintenance. Gold is always a classic favorite and has a prestigious look. Try different types of metals on and see which feels right for you. Decide if you want your bands to be the same metal as your engagement ring or watch, or choose to mix metals if you are incorporating a vintage or heirloom ring.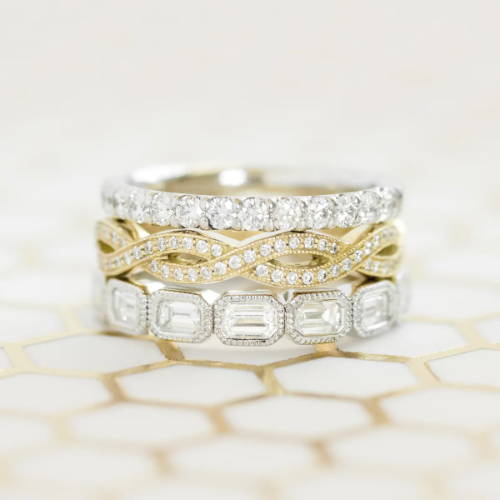 3. Mull Over the Details
Choose the shape and cut of your gemstones as well as other design details like milgrain edging, beading, and more. Many have been choosing eternity and infinity rings to compliment an understated engagement ring. Think about engraving a special message or ways to include family heirlooms within the bands. It's a fantastic way to literally weave a piece of family history into your future.
4. Give Us 6 Weeks
Once you have made your creative choices, our team of artists, designers, and goldsmiths take over. The first step is to make a detailed wax model or show you a 3D design on the computer. Our expert jewelers will ensure your new ring has a perfect fit with your engagement ring. Once the rings are molded together, and the diamonds and gemstones are secured, they hand polish everything and to perfection. This ring will stand the test of time.
5. Get Married!
Finally, your new rings will join you on your wedding day to become a permanent, and custom part of your life together. They will be with you forever and live on into future generations!