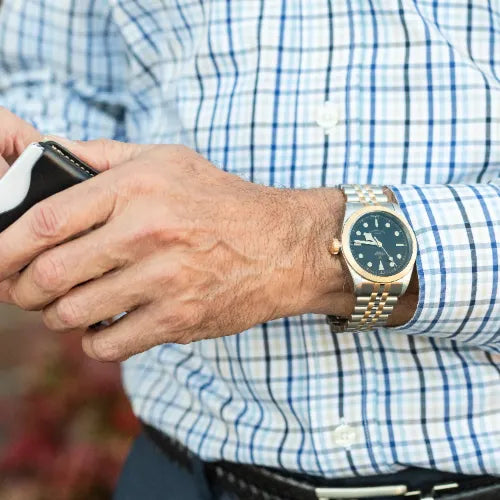 A bride giving her groom a gift is a tradition dating back nearly 5000 years. Even more remarkable, the reason for the gift has never changed. Before they stand before friends and family, the bride and groom exchange gifts as a symbol of dedication to each other and the life together they are about to begin.
The traditional gift a bride gives a groom is a wristwatch. But this is not a watch of mere functionality. It's a gift that quite literally begins counting the time you two will share together, and is designed to last through generations.
Choose a Dress Watch
When choosing a watch, you'll want to pick a "dress watch." This simply means a watch that is intended to be worn with a suit coat or long sleeve shirt. Besides his wedding band, this will likely be the only other accessory worn consistently by your new husband for years to come.
Choose Simplicity
There's a balance between elegance and understatement that makes a watch work for a man. It's hard to go wrong with a watch with a leather strap. That's a look that is classic and never goes out of style. The timepiece should also be 40mm in diameter or under. Anything more is considered oversized. Avoid too many complications like chronographs, annual calendars or other additions. A simple day or date is plenty.
Choose Classic
Watches made of precious metals like yellow or white gold have stood the test of time regardless of changes in fashion trends. Brides may also choose a stainless steel watch because of its durability and price. At the end of the day, a dress watch is there to tell time in formal settings without intentionally drawing too much attention to itself.
One Final Touch
Personalize it! You can add initials, dates, a vow, or passage that will give his watch an extra personal touch and protect your investment.
Ready to find the perfect gift for your groom? Stop by our downtown Columbia location and our team will help you make your day that much more memorable.