Modern technology has afforded each of us the opportunity to have our calendar, our music, and our favorite information source at our fingertips, or quite literally, at the end of our arm. Among the most popular options for keeping our technology "wearable" is the Apple watch, which sold more than 30 million watches in 2019. While analog timepieces and luxury timepieces continue to be popular options, we must also acknowledge that the Apple watch outsold all the Swiss timepiece makers combined in 2019. The major issue of the apple watch has always been aesthetic. How do you make a small screen worn on your wrist appear stylish or timeless?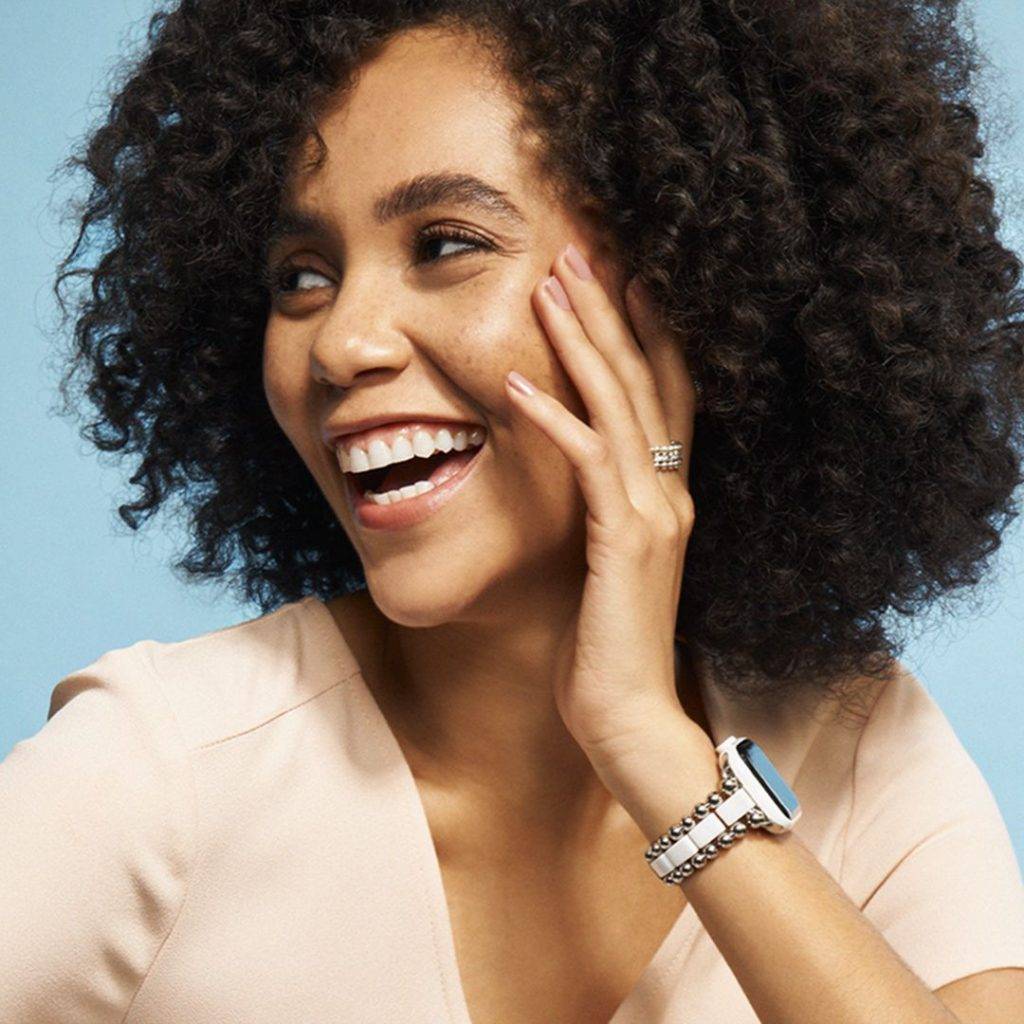 For the last several years there have been limited options for "dressing up" your Apple watch. A classic metal watch band, or more kitsch-y jeweled options have been around for a few years, but a true piece of jewelry that accents and enhances the appearance of the Apple watch has been missing… until now. Lagos, the jewelry brand known for their Caviar collection of jewelry, has introduced, or rather re-introduced, Smart Caviar. This collection of precious metal and diamond bands are made specifically for the Apple watch. Originally introduced in 2018, Lagos has released a second generation of the Smart Caviar collection, with bands available in sterling silver, 18k gold, black ceramic, and diamond.
Known for their signature Caviar beaded designs, these bands build on the collection by providing a transition from sporty to fine jewelry for the electronic watch. Versatile enough to be worn daily, the Apple watch bracelets from Lagos are designed to slip easily into place on the Apple watch. Each watch band has a sizing tool and extra links to guarantee a proper fit. Perhaps the most appealing feature is that each band is designed to be layered with other Lagos jewels, providing a cohesive look for everyday wear or that special occasion.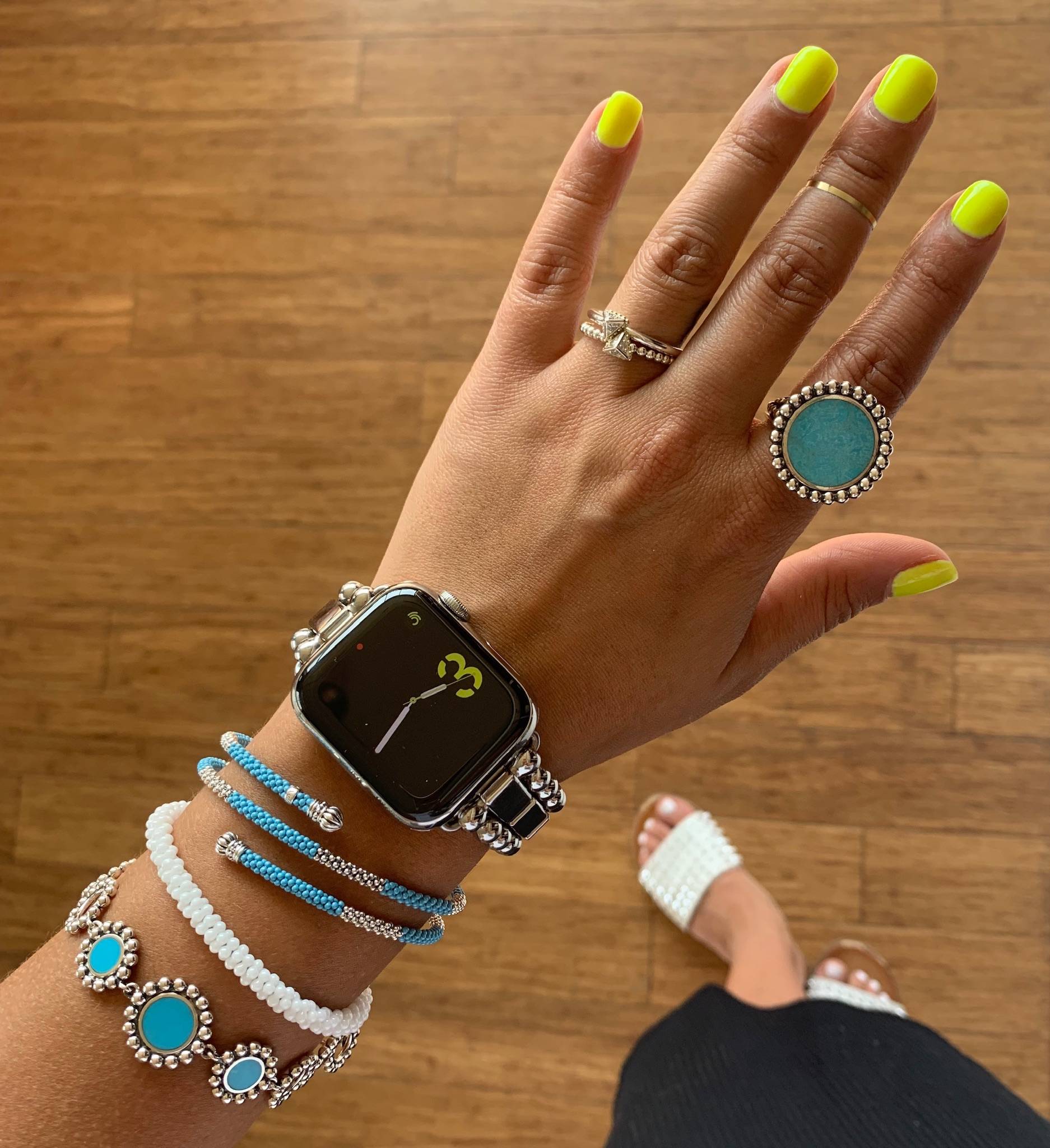 "My Lagos My Way" is not only the company tagline, it is an opportunity with each of their pieces to mix and match styles in any way you prefer, the ultimate expression of individuality in your jewelry. Creative director and founder, Steven Lagos, said, "with Smart Caviar, women can benefit from the functionality of the Apple watch without sacrificing their personal style". The watch bands in the Smart Caviar line are designed for all Apple watch series, 1-5, and are available for sizes 38mm, 40mm, 42mm, and 44mm. The line ranges in price from $595 for a stainless-steel watch bracelet, to $8,500 for the diamond watch bracelet. Each bracelet is finished with a secure double-button clasp detailing the Lagos crest.
With a collection of bands mixing stainless-steel, sterling silver, ceramic, 18k gold, and diamonds, there is enough variety of style and materials to complement any wardrobe. Creating your own personalized look is as simple as stacking another Lagos bracelet on the same wrist or picking a pair of earrings to complement the ceramic on your watch band. Fashion-forward and available for a per-day price cheaper than your cup of coffee, Lagos has created a daily wear addition to the Apple watch which can upgrade any look, allowing your smart watch to compete with the finest Swiss timepieces for looks and style.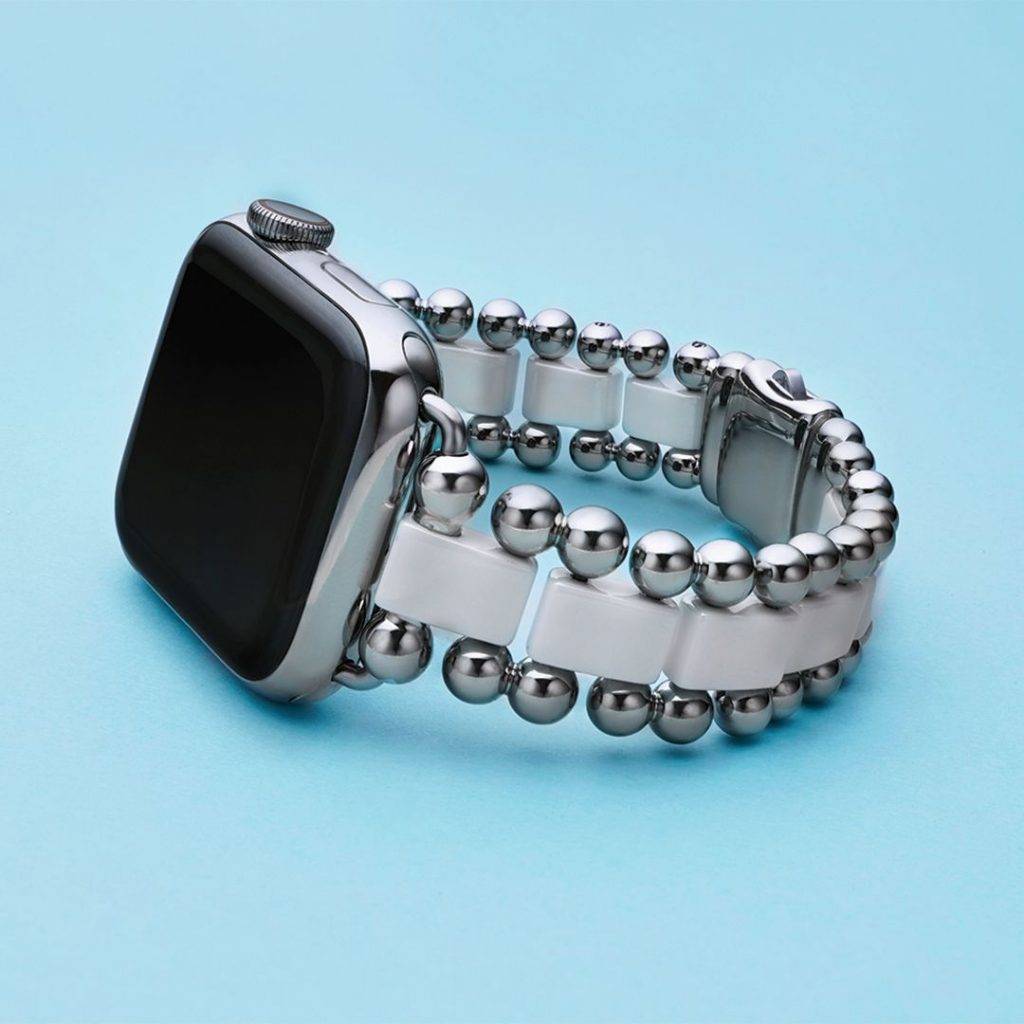 Shop all our smart watch bracelets here and in-store in Downtown Columbia!