Technology Meets Luxury: The MICHELE Hybrid Smartwatch
Activity trackers and wearable devices will account for nearly $25 billion dollars in global sales during 2018. While the data gleaned from wearing an activity tracker can be valuable to understanding overall health and fitness levels, the appearance leaves something to be desired.
Large digital screens are often accompanied by synthetic straps and the need to be recharged every few days. While some companies have entered into the luxury wearables industry, the marketplace has remained void of a classic, fashionable, luxury offering, until now. Michele is known for creating fun, feminine timepieces. With an established history of producing chic watches for women, the brand has made the plunge into the tech watch industry with the Michele hybrid smartwatch. When paired with the Michele connected app for iOS or Android, the analog elegance of a Michele watch takes on an entirely new form with multiple smartwatch functions. The result is a smartwatch that wears like a luxury timepiece.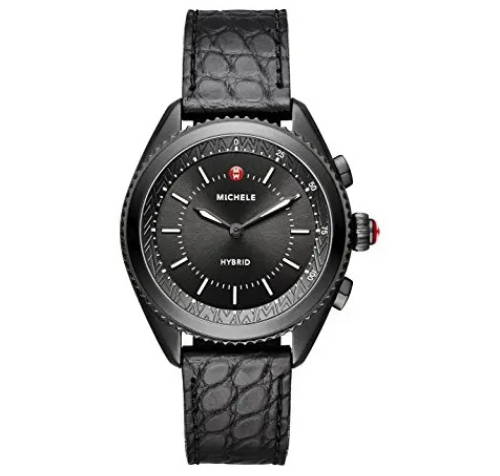 The Michele hybrid smartwatch is presented in a 38mm stainless steel case available in four colors. Stainless, Gold, Rose Gold, and Black cases are combined with bezel accents and sunray dial options to present seven unique offerings. The Michele hybrid smartwatch has a traditional watch face. Lum-filled hour markers and watch hands mark the time, and all smartwatch features are accessed by the three side buttons. Smart functions are set and controlled by the three side buttons in conjunction with the Michele connected app. The timepiece is finished with an alligator strap which hugs the wrist without feeling stiff thanks to a comfortable silicone lining. The alligator leather strap is interchangeable with any 18mm watch band, including several offerings from Michele. Slightly larger than many women's timepiece offerings, this watch feels weightier and more quality than any other smartwatch on the market. This is truly a luxury timepiece with technological features. We know it tells time, but what exactly are these smartwatch features?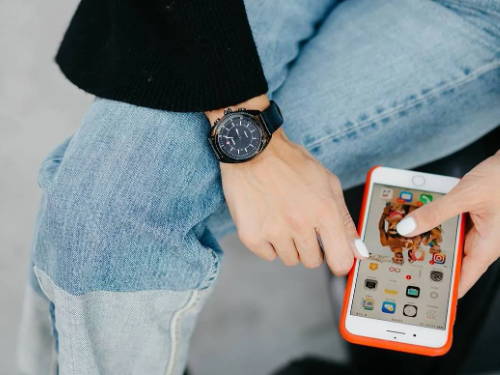 For health and fitness aficionados, the Michele hybrid smartwatch tracks all the basics. Daily steps, calories burned, and total mileage are just a few of the metrics tracked. If you prefer to set daily or weekly goals, you can track exercise and hydration along with the option to create your own custom goals in the Michele connected app. The app tracks sleep, providing comparison week to week as well as analysis of deep and light sleep. All of the fitness metrics tracked can be shared with other apps including the Apple Health Kit for iPhone. The Michele does so much more than simply track fitness metrics, allowing the user to play music or take a photo from a press of the smart buttons on the hybrid smartwatch. Additional functions include notifications for incoming messages and calls with the ability to customize which contacts in your phonebook prompt haptic notifications from your Michele It can also ring your phone if misplaced.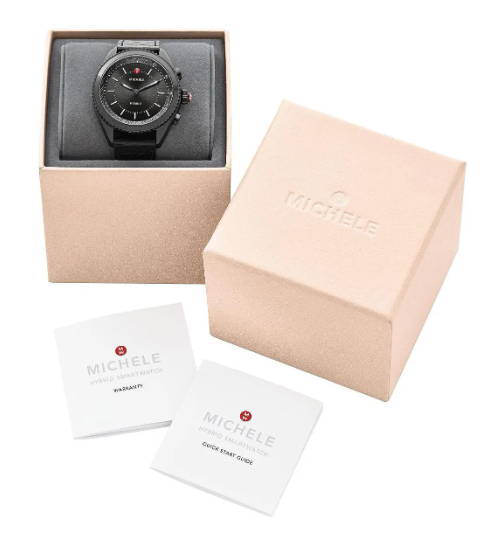 One major setback for all wearables has been the need to constantly charge and update the device with new software. The Michele connected app handles all software updates on a platform outside of the device, making the hybrid smartwatch a simple to use device. Michele has also remedied the overnight charging issue with an estimated 4-6 months of battery life under normal usage. The low-emission Bluetooth connection allows for constant use without demanding battery use.
This hybrid smartwatch is a unique combination of classic analog style and modern smartwatch technology. Wrapped in an elegant package and suitable for everyday wear from the office to your favorite workout, this is one smartwatch that you will want to keep on your wrist every day.