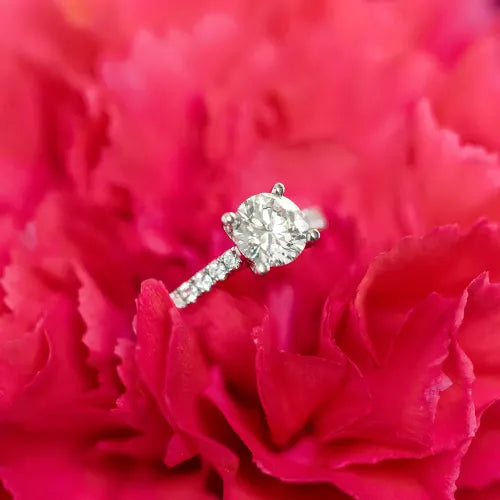 The easy answer is: it depends. But that's not going to help you decide, and this decision is a big one. First, it might be helpful to know that as many as 65% of couples shop together for engagement rings, so it isn't unusual at all. For many men, however, the tradition of choosing a ring and surprising his girlfriend is hard to resist.
Here are some thoughts to help you choose...
Reasons to Go Shop for an Engagement Ring Together
1. It takes off the pressure! You've already decided you're getting married, and she knows a proposal is coming (she just doesn't know when)!
2. You get her ring size right. It's no fun to give your girlfriend an engagement ring, then make her wait to wear it until it gets properly sized.
3. She gets the exact ring she has dreamed of. She'll love just about anything that comes from you, of course…but when you have the opportunity to really get this right, why not take it?
4. It's your first big decision - together. You will be making many big decisions as husband and wife, this can be your first big decision you make as a couple…and good practice for the future!
Reasons to Shop for an Engagement Ring Alone
1. It's more romantic! The fairytale many girls have is for her boyfriend to make a grand splash and big gesture to finally win your hand in marriage. If a surprise is what you want (and what she's expecting), start your undercover work today!
2. Your budget may increase. If you go together and she absolutely falls in love with a ring, you may end up paying more than you expected.
3. Money could be a frustration. Talking money with your soon-to-be fiancé isn't the most romantic thing, and as you learn more about rings you may change your mind about how much to spend. You may find something a little larger than you were expecting, or end up spending a bit less than you budgeted.
How to Shop for a Ring with the Best of Both Worlds
1. Bring her mom or a friend. Nobody knows her tastes better, and you can choose without too much pressure
2. Bring another ring for sizing. If you can get your hands on another one of her rings (or even trace it on a piece of paper), you can get the size right the first time.
3. Wishlists and Pinterest. Tell her you want to get something she'll love and to give you an idea of what she really likes. Pinterest can give you a good clue into her tastes.
Most importantly, take your time and enjoy the process. Whether you go it alone, or as a team, it's an adventure you'll remember forever. Feel free to stop into our store on Main Street and work with our friendly staff to find the perfect ring (in your budget) for the perfect woman.