Meghan Markle's 'Something Blue'
Since Meghan Markle and Prince Harry tied the knot, many are still cooing over her stunning wedding dresses but we are still envying her "something blue". The Duchess of Sussex changed out of her Givenchy gown and jaw-dropping train from the ceremony and into a slinky Stella McCartney reception dress complete with an eye catching cocktail ring on her right hand. As if a halter neck gown, sports car and prince in a velvet tuxedo weren't enough to capture the world's attention, Meghan was seen waving a gorgeous emerald-cut aquamarine and diamond ring while entering the reception.
Photo Credit: Getty Images via Who What Wear
Elegant yet showstopping, Meghan's ring once belonged to to her groom's late mother Diana, Princess of Wales (so it could be considered her something old, too). Princess Diana was seen wearing the ring at many red carpet events including a gala in Australia in 1996 and a New York City charity auction in 1997. She even wore it to an auction of her own clothes at Christie's in 1997. Now, over 20 years later, her daughter-in-law chose to wear the piece in her memory.
The ring was custom made after her divorce from Prince Charles. At the time, Diana felt it was inappropriate to wear her original sapphire engagement ring and commissioned Asprey, a local jeweler, to custom design a piece to better suit her style in 1997. The aquamarine is surrounded by smaller full cut diamonds and set in 24 carat yellow gold. The jewel is actually part of a set — the other piece is an aquamarine bracelet, where it's connected by five strands of pearls.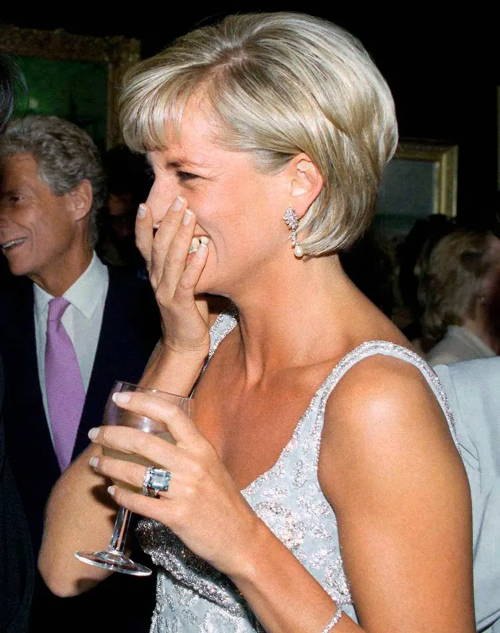 Photo Credit: Getty Images via Who What Wear
After doing a little research, over and over we noticed that historians say that Diana always chose jewelry that was meaningful to her. Like many of our customers, she was very intentional with new additions to her collection and made sure each piece represented a meaningful moment in her life.
Following her untimely death, it was revealed that Diana wished for three quarters of her estate and personal jewelry collection to be inherited by her sons, William and Harry, so that they could gift her heirlooms to their future wives. Originally, Harry selected the sapphire and diamond ring that Catherine, Duchess of Cambridge now wears on her left hand. Prince William swapped his mother's Cartier watch with Harry's ring so we could propose to Kate. Of course, Harry obliged and decided to custom design a ring for Meghan that included diamonds from one of his mother's brooches.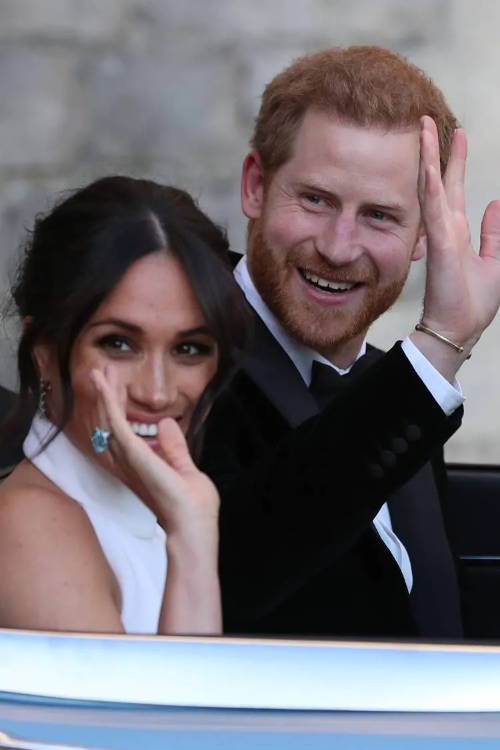 Photo Credit: Getty Images via Who What Wear
Whether is was "something borrowed" for the night or just given to her from her new husband Prince Harry, the ring is absolutely breathtaking. And while it may not be big enough to claim its own zip code (although quite close), the ring will be remembered in history as part of a real live storybook ending.
Interested in an heirloom cocktail ring of your own? With the help of our expert staff, find yours in our estate collection at our Downtown Columbia.