How to Choose the Right Metal for Your Engagement Ring
Supermodel Iman once said, "In a world full of trends I want to remain a classic". In the world of jewelry, there is arguably no piece more classic than the engagement ring. Today, engagement rings are as popular as ever, but in a world full of trends, there is now exponentially more choice than ever before. Where the major decision of an engagement ring has historically fallen on the shape and size of the stone, choosing the right metal for the ring is now equally as important.
Choosing the right metal and color to complement your soon-to-be fiancée's style will guarantee the classic look you are going for. What used to be a simple choice between yellow and white gold now entails a thorough decision-making process of different metals and colors. Here's a deeper look at a few of our preferred choices for engagement rings.
How to Choose the Right Metal
Before choosing the ring, consider whether it complements the diamond you have selected in terms of both aesthetic and security. Gold is softer and more malleable, while platinum is sturdier. Intricate settings for the stone may be better served with a more durable metal for your ring.
Diamonds tend to stand out more beautifully against white metals, including white gold and platinum. The whiter the metal, the higher the grade of diamond should be. Choosing a top-quality stone free from color defects will keep any hints of yellow from showing against the whiteness of the metal. Let's look further at a few of the characteristics to consider when choosing a metal for your engagement ring.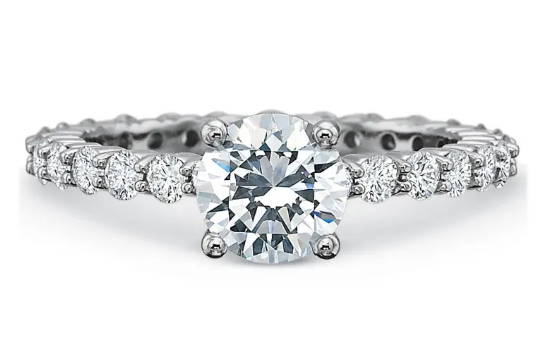 Why Choose Platinum for an Engagement Ring?
Platinum has some very significant benefits as a choice for your engagement ring. Platinum is a naturally white metal with a cool luster that will showcase the brilliance and sparkle of a diamond. If she is drawn to cooler hues and silver-toned jewelry, platinum will also complement her style aesthetic. When compared to gold, platinum is five times as rare and purer when used in the creation of jewelry. Platinum is also more durable than gold, making it a good option if your fiancée leads an active lifestyle.
The color of platinum does not fade or change over time, making re-plating your platinum ring unnecessary. Platinum is also hypoallergenic, so it is an ideal choice if your fiancée has sensitive skin. Platinum will last a lifetime, is durable, pure, hypoallergenic, and resists damage and fading.
Why Choose Gold for an Engagement Ring?
Gold is an extremely versatile metal and the most common choice for jewelry. There are three popular colors of gold used in engagement rings, Yellow Gold, White Gold, and Rose Gold. Each has particular traits which make it appealing for building your perfect engagement ring: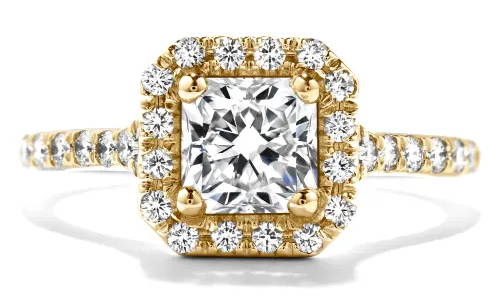 1. Yellow Gold
Yellow gold will always be synonymous with classic and timeless jewelry. Yellow gold is a wonderful choice if she tends to gravitate towards warm tones. When platinum was declared a strategic metal by the United States government during World War II, it was prohibited for use in civilian applications. This made yellow gold the metal of choice for jewelry makers throughout the country. Yellow gold has remained popular as a choice for engagement rings for the past 75 years.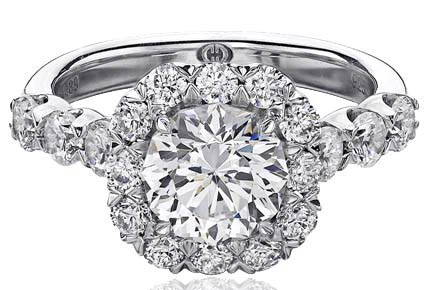 2. White Gold
White gold is more contemporary than yellow gold. It is beautiful, durable, and long-wearing, making it ideal for both engagement rings and wedding bands. White gold is said to represent fidelity, making it an appealing choice for a traditional bride.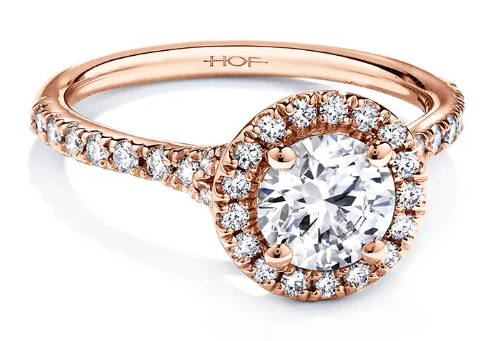 3. Rose Gold
Rose Gold has a warm pink hue which is created by combining yellow gold and copper alloy in a unique and romantic representation of the metal. Because Rose Gold is a mix of the other two colors, it is more durable than yellow or white gold and maintains its shine, eliminating the need for rhodium plating. Also known as "pink" gold, rose gold is newer in popularity but shows zero signs of declining in demand. Rose gold is widely acknowledged as a symbol of love, making it an ideal metal for your perfect engagement ring.
Regardless of the metal you choose, your perfect engagement ring happens when you acknowledge the things which make your partner unique, identify the style she is looking for, and complete the look with the ideal diamond or gemstone. You'll end up with a ring that suits her perfectly and that she will be sure to cherish forever.