Your hair. The dress. Shoes. And, of course, your jewelry. According to Morilee designer Madeline Gardner, "Jewelry is a key element in completing your perfect bridal look." It's your personal look, and it's perfectly ok to break the so-called "rules," but here are some helpful tips to help you along.
You're the star, not the jewelry – You and your amazing dress are going to be the center of attention. Don't let the jewelry draw attention away.
Choose complementing pieces – The idea is to make sure each element is complementing the other. One item should build on the next and when it's all together…you're the star.
Start with your neckline – A good strategy is to start with your neckline in mind. If you have a sweetheart or strapless neckline, consider a shimmery collar or multi-strand necklace. For halter, strap, or illusion neckline, you might want to skip the necklace and choose a pair of statement earrings.
Dress color is key – If you can't decide between silver or gold, let the color of your gown guide you.
• White gown: Choose platinum or silver pieces.
• Ivory gown: Gold jewelry looks fantastic with creamy shades.
• Champagne gown: Gold is ideal for warm tones. Burnished silver with rhinestones is great when going for an antique-inspired look.
• Blush gown: Rose gold and metals with pink hues go well with the soft pink of the gown.
As always, it's important that your jewelry choice is a reflection of you. Don't feel like you have to go with the traditional look if that's not your style. Love the way you look in a lariat necklace? Go for it! Just remember: don't let the jewels outshine you!
If you're looking for some great wedding day ideas, here are some of our go-to choices:
Hearts of Fire Beloved Necklace
Roberto Coin Large Inside Outside Diamond Hoop Earrings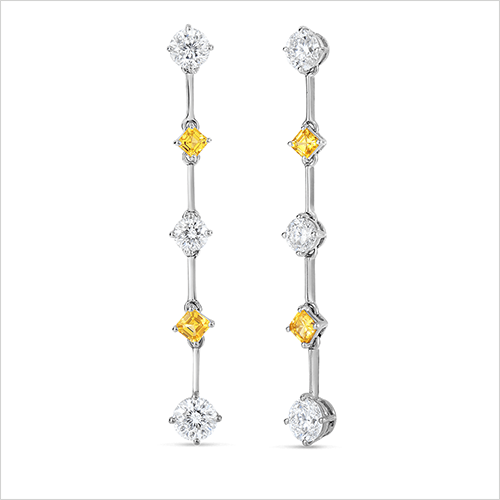 Hearts of Fire Lorelei Interlocking Heart Bracelet