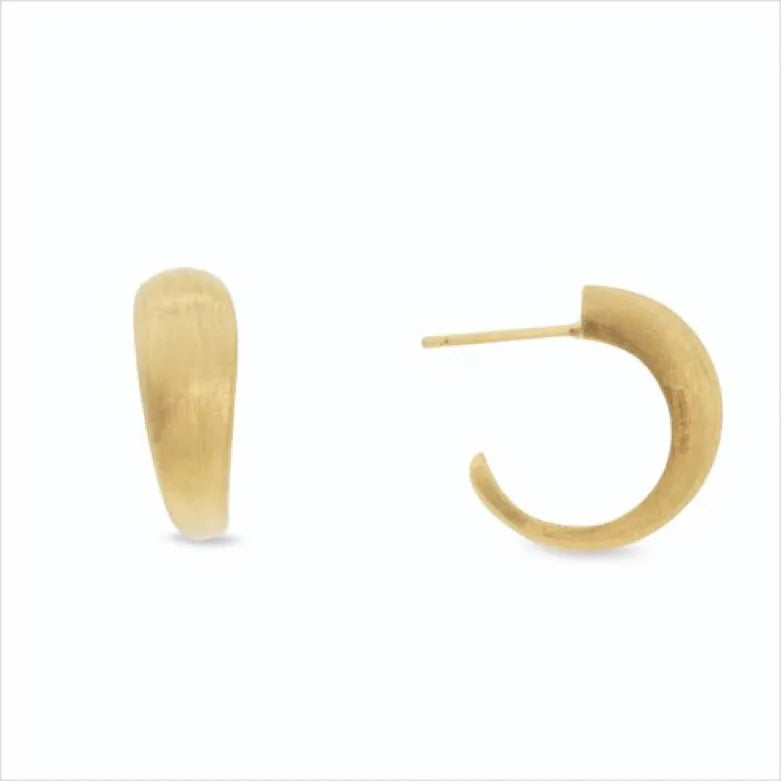 Fashion has the little black dress, that staple wardrobe piece that is perfect for any event. Formal, casual, fun, the piece you can dress up or down and always look on-trend. There are several jewelry counterparts to the little black dress, but perhaps our new favorite is the ear hugging hoop earring.
Perfect for everyday wear no matter the occasion, these earrings are minimalistic but fashionable. They hug perfectly around your ears or look great in a second piercing with their lightweight and versatile style. These are the earrings you can leave in for days and know that whether you are headed to the office or a night out on the town you will look fabulous and on-style.
With multiple ear piercings being a new trend, these small ear-hugging hoops offer you a multitude of options. Multiple hoops in the same ear can create a chic stacking effect or you can use a small fitted hoop on a second hole to create a little extra flair. We love these simple, stylish earrings because they look great whether you are headed to the gym after work or to a black-tie affair. Here are a few of our favorites.
Marco Bicego Small Hoop Earrings
Offered in 18k yellow gold, these small hoop earring by Marco Bicego are classic and elegant. With a textured look and tapering from broad at the top to narrow at the bottom of the hoop, they are timeless. Featuring a heavy, beautiful shape, they evoke a mid-century modern aesthetic that is also clean and contemporary. These hoops are perfect for every day at the office or that special dinner with friends to celebrate any occasion.
Roberto Coin Inside Out Earrings
The Roberto Coin Inside Out Diamond J Hoop Earrings are stunning. Simple enough for everyday wear, but with enough firepower to stop the show at any formal function. These 18k white gold hoops are embellished with round brilliant diamonds to create absolute symmetry. With a total weight of nearly 2ct. there are enough diamonds to make a statement, but they never look gaudy or over-the-top. This perfect pair of hoops is powerful enough to stand on their own for any occasion.
Marco Bicego Two Row Hoop Earrings
The Marco Bicego Masai 18k Yellow Gold and Diamond Two Row Hoop Earrings are a master course in contrast. The textured yellow gold hoops are inspired by the ornamentation of the African Masai tribe. The classic hoop is given a modern update with the addition of a strand of diamonds alongside the hoop. The two rows create a stunning look of tradition and elegance combined.
Roberto Coin Small Hoop Earrings
Roberto Coin's Pois Moi collection was named best Italian Jewelry Collection in the world in 2014, and the brand has built on the success of that accolade since with its most clearly defined collection. The 18K Gold Pois Moi Luna Small Hoop Earring is a decisive example of the style and available in three colors. Yellow, white, or rose gold hoops feature a post with snap hoop closure, making it appear as if these hoops simply wrap around your ear. With stylistic circular accents and a chunky thickness that makes them perfect for everyday wear, these hoops are sure to be the topic of conversation at any event.
With all the jewelry choices you can make on a daily basis, we know it's nice to have a staple in your collection. These small hoops provide enough shine for a night on the town and enough simplicity to be worn every day.