Grainger-McKoy: Accessories For Men
Sometimes a passion creeps in early on, and once it's in…it's there for life. When he was just a teenager, Grainger McKoy carved birds and decoys growing up in South Carolina. He may not have been the only kid doing that, but Grainger took it one step (maybe even seven or eight steps) further. A wooden feather he carved was turned into a mold. He poured bronze and sterling into the mold to make an exquisite feather. Then he made another. And another. Pretty soon he had an entire bird made of bronze.
Discovering these talents would eventually lead Grainger McKoy to Coleman E. Adler & Sons in New Orleans. There he would meet Ms. Tiffany Adler and on her recommendation, he developed the Quail Cufflinks and Stud Set. Today, these cufflinks are among the most popular items…but by no means are they the only handsome accessories available for men.
Quail Belt Buckle
Entirely handmade, this belt buckle uses a cam-locking mechanism so the belt doesn't need holes. A closer look on the buckle and you'll notice tool marks from the silversmiths, a hallmark of a piece made by hand. Available in both brass and sterling silver, the buckles have a sterling quail on the front. The belt is an inch wide and made of Italian Calfskin with an alligator pattern.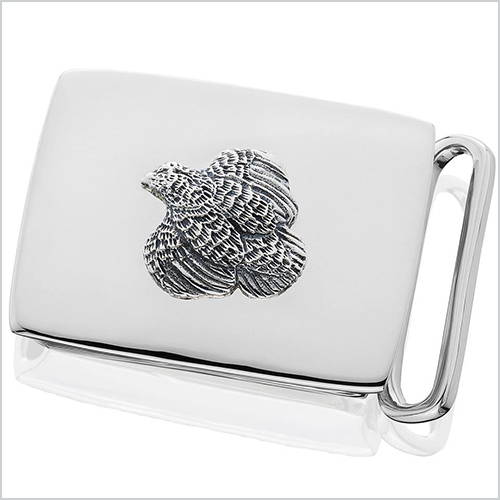 Hand-Cut Money Clip
Today's gentlemen are minimizing from bulky wallets to attractive money clips. Because these are handmade, each one is just a bit different from the next and only a handful can be produced each week. The design is cut in with a handsaw and the bits of exclusivity make this money clip a gift that is sure to bring delight.
Hand-Cut Ring
Similar to the money clip above, this ring is also part of an exclusive line. While not individually hand-cut, each ring is cast using the traditional lost-wax method and made of highly polished sterling silver. Available in both men's and women's sizes.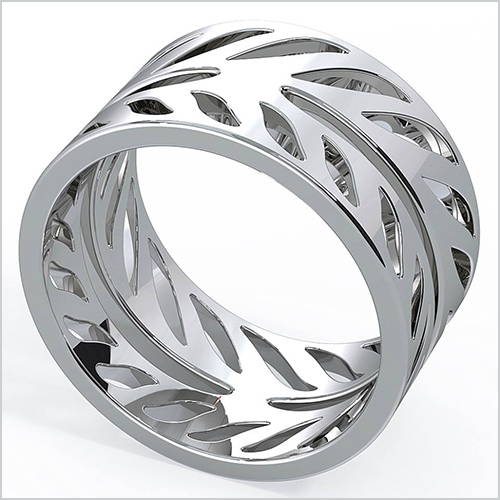 Wide Feather Ring
Echoing back to Grainger McKoy's early days comes the wide feather ring. It's available in both silver or 14-karat gold and is suitable for both men and women. Couples have been known to choose the feather ring for their wedding bands and it is also available with diamonds.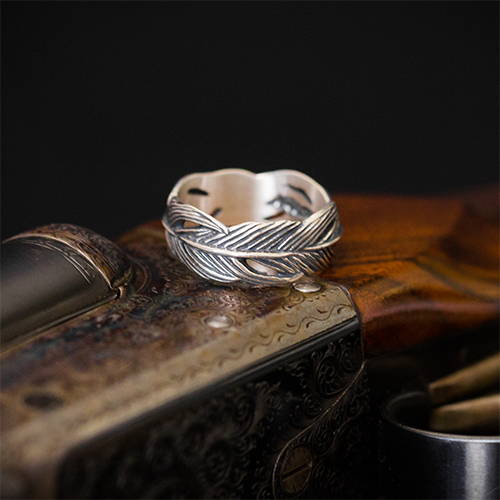 Wood Duck Cufflinks
Slightly heavier than the Quail Cufflinks, these are the perfect gift for the sportsman. These are available in 14 or 18-karat gold and in sterling silver and adorned with European-style findings one often finds on the world's most expensive cufflinks.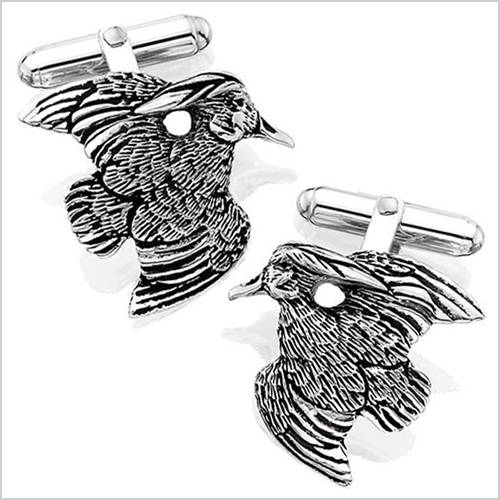 We're proud to showcase this dynamic South Carolinian designer and share his unique talents with men who appreciate fine accessories.