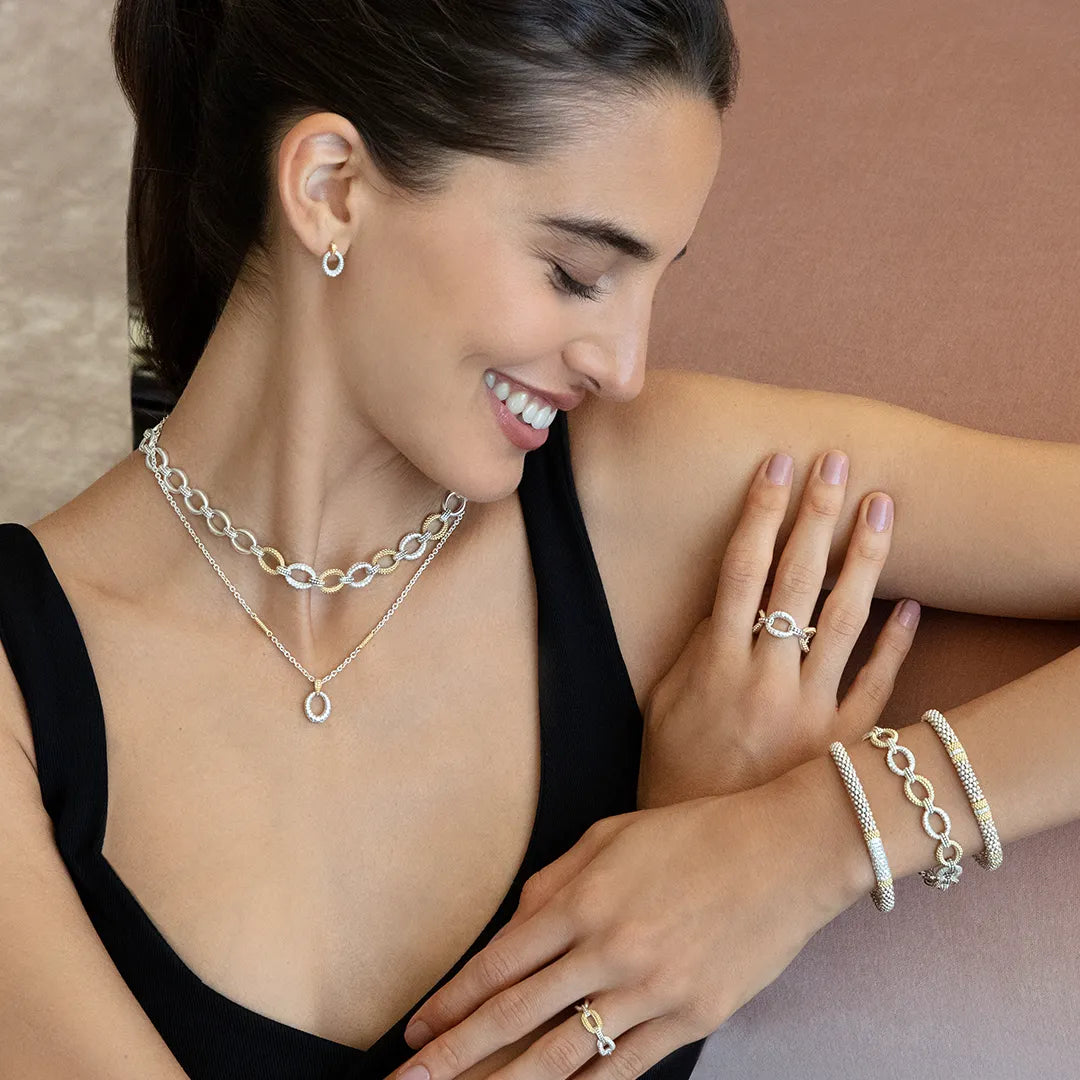 In 1975, a young teenager named Steven met a Russian jeweler. This chance meeting would make an unexpected impact on this 17-year-old. The jeweler became his mentor, teaching him the classic techniques and to respect the craft of jewelry making. Three short years later, Steven Lagos founded his own company creating his special brand of jewelry. Jewelry that ever since has been known for its craftsmanship.
Since 1977, Steven Lagos estimates that he has created 10,000 pieces of jewelry, and there's no sign of him slowing down. Each year, another 400 to 500 new designs are created. No matter what he creates, it's always with the skills of an old-world artist using the highest quality materials, just as his mentor taught him all those years ago.
Lagos Jewelry has certain hallmarks, like his proprietary design technique of textured, caviar-like beading created in 1984. His Signature Caviar, inspired by raw hematite, takes hundreds of steps to create. Each individual piece starts with a hand-drawn sketch by Steven Lagos himself.
In addition to his other dazzling works, Lagos has also created a line called Keep Memory Alive. This collection is made in support of Keep Memory Alive's mission of funding research and treatment of memory disorders. "It's about raising awareness and getting involved to help the patients and their families," says Lagos. Each design is inspired by Keep Memory Alive's architectural masterpiece by Frank Gehry, and 100% of your purchase will benefit their important work.
This is jewelry created for the woman who possesses a unique blend of confidence and sophistication. She's the woman who customizes her look and Lagos Jewelry is an integral part of it. It's done with such effortlessness, she's able to say: MY LAGOS MY WAY.
While it's hard to choose just a few, here are some pieces we've hand-picked that we're sure you'll love:
Smart Caviar Bracelet
Now you can be fashionable and still get all the benefits of your Apple Watch. The Smart Caviar Bracelet collection is for ladies on the go who are looking for a chic way to wear their tech timepiece. In a world with predictable, look-alike watches, these bracelets will transform your watch into a work of art. You can find these in a variety of metals and finishes to complement your wardrobe and personality. It upgrades an ordinary watch to a level of glamor that only Lagos jewelry can. With caviar beading on the band, you can now combine your high-tech timepiece with other items in the Lagos collection.
Lagos Caviar Bracelet
If you're going to upgrade your smartwatch to include a Steven Lagos bracelet, you must combine it with a Caviar Bracelet. You can find these in multiple styles and options. All feature caviar beading and highly polished sterling silver stations, with faceted black onyx gemstone end caps. It's finished with a hidden hinge clasp holding together sterling silver and 18-karat gold. The band's width is 8mm, tapering to 6mm, and gemstone dimension 5mm bullet.

North Star Diamond Pendant Necklace
Carbon is formed in the belly of stars, so it only stands to reason that a pendant dedicated to the north star features this stellar element. The Lagos North Star Diamond Pendant Necklace uses round brilliant cut diamonds, each with 58 facets maximizing the brilliance. Lagos has created this of 0.16 carats of diamonds, 18-karat gold, and sterling silver to form a star motif. The necklace adjusts from 16 to 18 inches, and its dimensions are 24mm x 15mm.
From a 17-year-old boy learning at the hands of an old-world Russian master, to one of the most celebrated jewelry brands today…we think you'll absolutely love Lagos Jewelry.