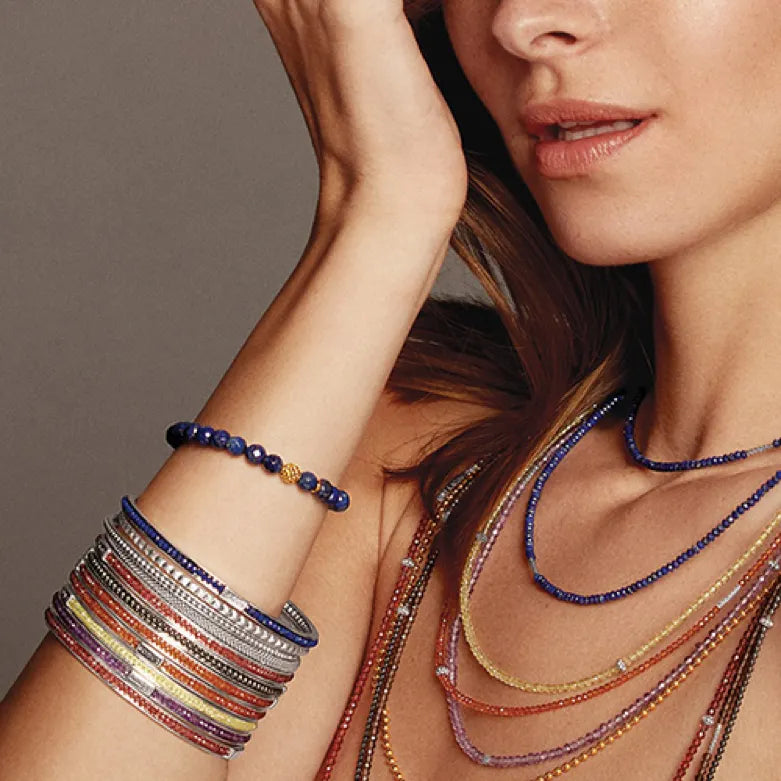 Just like getting out sweaters and jackets, it's time to transition to fall jewelry. Whether you have cocktail rings, diamond jewelry, or more casual options, you can combine light summertime jewelry with heavier autumn counterparts. If you want to transition from summer to fall like a style powerhouse, you need to stay on top of all the latest jewelry and accessory trends. Combining lighter jewelry with heavier counterparts can create a contrast that's pleasing to the eye. Wearing a light summer ring with a heavy necklace is a great example of what we're talking about.
Stacking Jewelry
The layered look that dominated the fashion world for the last several seasons is going to continue into the fall. The pieces you'll be stacking may change somewhat from season to season, but the principle is still the same. Pair lightweight summer jewelry with chunkier, more substantial pieces you're seeing in the fall. The mixture of textures and weights are both a unique style statement and the perfect way to convert from season to season.
Cuff Bracelets
Cuff bracelets are going to be on-trend for the foreseeable future. Fall jewelry fashions are seeing bolder, more durable pieces. You'll see trendsetters wearing them over top of long sleeves. Versatility is what makes cuff bracelets so popular. They can be worn alone, stacked, and easily dressed up or down. They just might be the perfect transition piece that will go from day to night…or season to season.
Pearls
Summer pearls look great over-top of winter sweaters. If you're going for a more casual look, you can wear a collared shirt under a sweater along with nearly any length of pearls. Short strands are beautiful when just a hint peeks out from under your collar, while longer strands are absolutely lovely against a sweater.
We'll be sure to share more tips on fall jewelry as the weeks go on, but these easy combos will help you make a seamless transition out of summer and into autumn!