Why Diamond Studs Are the Perfect Valentine's Day Gift
February 14th is next week, and yes, you should get her something magnificent. Now, we know that's easier said than discovered. We also know that there's only one piece of jewelry that will always be the perfect gift: diamond stud earrings.
If there has ever been a gift you can't go wrong with, it's this one. Diamond stud earrings should have a place in every woman's jewelry collection. They are something that she can in the office, out with friends or on a date and with any outfit. Now for the greatest part: It's impossible to buy the wrong size. Seriously. In 120 years, not one person has brought a pair back and said, "they don't fit."
To help you out, here are 3 of our favorites: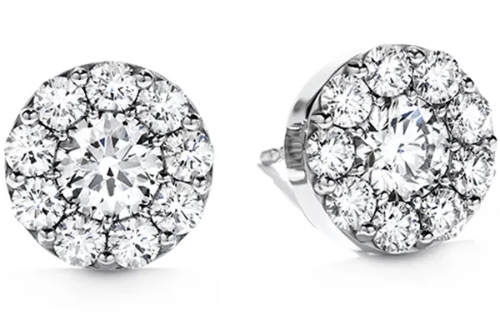 Hearts on Fire Fulfillment Earrings
These were created to mirror the style of halo engagement rings - big look, bigger value. There are 20 diamonds strategically placed to appear as one big diamond rather than individual ones, a design feature that helps to bring make the price far more approachable (we know that's music to your ears). The Hearts on Fire Fulfillment earrings show off approximately 1.90 to 2.10 carats of white round diamonds.
Marco Bicego Delicati Earrings
The Delicati earrings are hand finished in Italy using traditional craftsmanship. Bicego pushed his artistic skills by reinventing the halo with this design. The outer ring is made of 18k yellow gold and hand-engraved by senior artisans. The 20 diamonds in the center of the earrings are pave set with a total weight of 0.15 carats for both earrings. Trust us, these earrings won't look like anything else in her collection.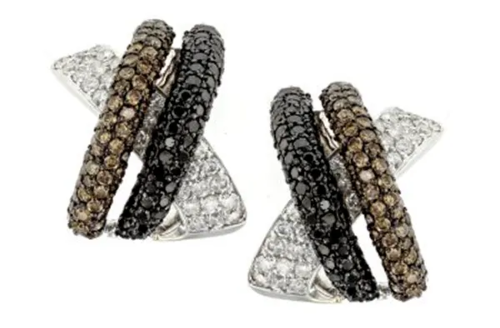 Sylvan's Estate Collection Multi-Colored Diamond Studs
Diamonds are the center of attention in this pair of studs. They are set in 18k white gold with 84 black diamonds weighing 1.68 total carats, 81 brown diamonds weighing 1.62 total carats, and 45 full cut white diamonds weighing 1.12 total carats. The black, brown and white diamonds in these earrings create a spectrum of colors you can see from across the room. Simply put, these earrings are a winner.
If you don't see something you love here, we've got great options from Mikimoto, Fire and Ice, Roberto Coin, and Suna Brothers too (in a variety of price points too!). Visit our downtown Columbia location to see these and more in-person.