The new iPhone is out. New cars are already on the lot. And there's a new diet on that new website they talked about on that new podcast. But is newer always better? As with many things, the answer to that is: sometimes, but not always.
If you're looking for something original, you're going to love our estate collection at Sylvan's. Vintage jewelry carries with it charm, a fascinating history, and the ability to say "I'm one of a kind."
The savvy fashionista knows another secret of estate jewelry: it's often less expensive than buying new. But what you get is a piece of jewelry that was crafted in a time gone by. Vintage jewelry reflects the art and fashions of a specific era. It was the "new car" and "latest phone" of its time. Today, it is the choice of the girl who wants her accessories to be as original as she is.
Here are a few of our favorite items in the collection:
Coral and Diamond Bracelet
This is an 18-karat gold bracelet with 30 angel skin coral beads, a center full-cut diamond, weighing 0.50 carats, 10 full-cut diamonds weighing 0.40 total carats, and another 20 full-cut diamonds weighing 0.60 total carats.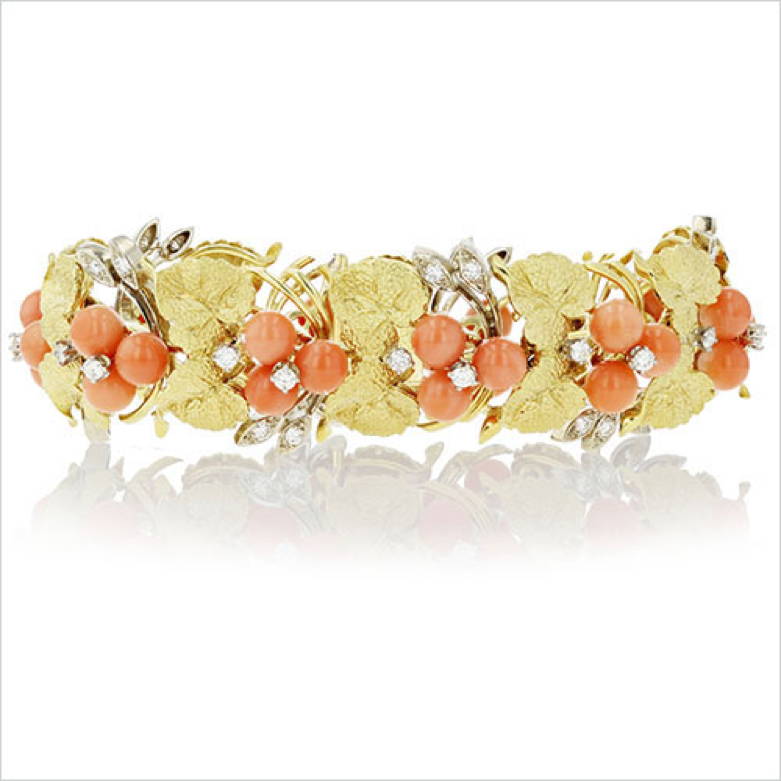 Vintage jewelry also has the benefit of being durable. It has survived all this time, and it's bound to last many more years. While some minor repairs might be necessary (don't worry, we happen to know some people who are pretty amazing at jewelry repair), the precious metals and gemstones will last for generations to come.
Sapphire Earrings
In these earrings, you'll find 12 flush-set sapphires, weighing a total of 4.03 carats. Surrounding those sapphires are 2 prong set center diamonds and 84 amazing bead-set full-cut diamonds totaling 0.78 carats.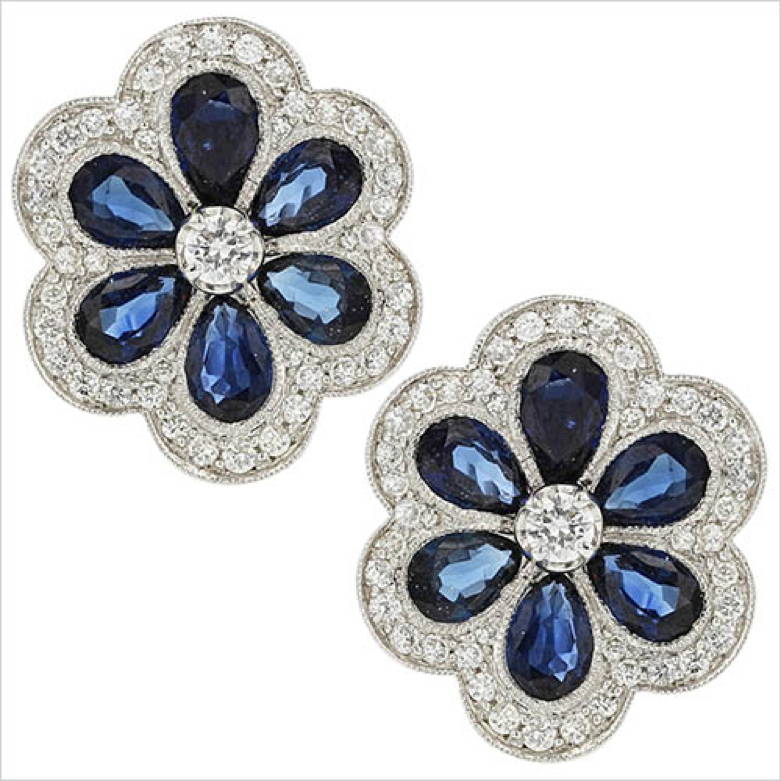 "Estate jewelry" is simply defined as something that was previously owned. It includes items from an antique 18th-century Georgian parure, to a glamorous art deco brooch. Estate jewelry spans many eras and centuries.
Buccellati Ring
You can feel a bygone time in this 18-karat white gold ring with an emerald-cut emerald, weighing approximately 0.45 total carats. There are 6 full-cut diamonds that weight approximately 0.51 total carats, 2 round blue sapphires weighing approximately 0.70 total carats, and another 4 fancy yellow diamonds that weigh approximately 0.45 total carats.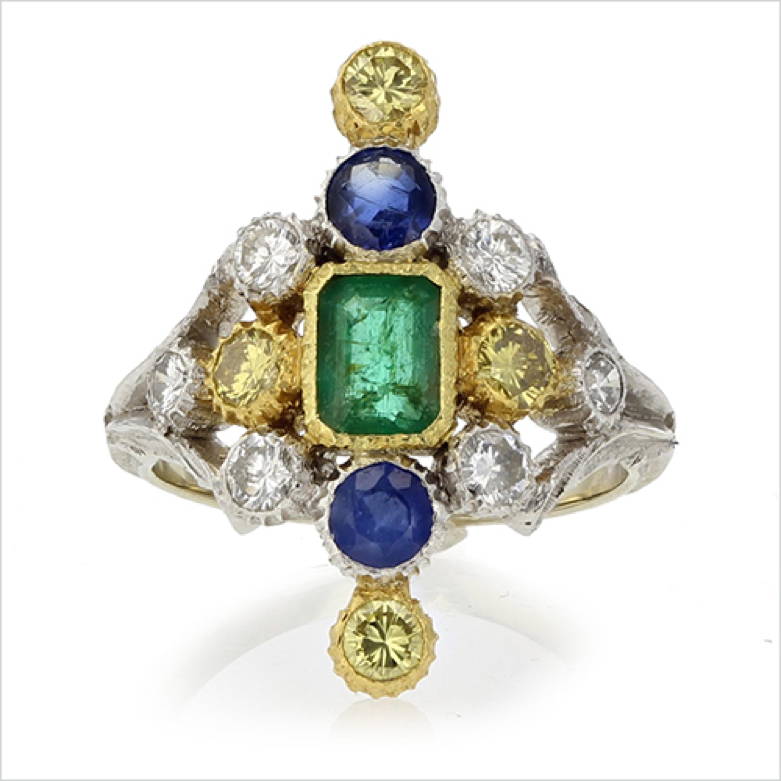 Each item of estate jewelry brings with it a special history. It may or may not have once been worn by a famous star, but it most definitely was a symbol of someone's love. It's not uncommon to find vintage jewelry engraved with romantic messages, deepening the dramatic story even further.
Sapphire Pendant Necklace
This necklace is rich in artistry and history. Made of platinum and 18-karat yellow gold with a center oval blue sapphire weighing approximately 2.90 total carats and 67 dazzling full-cut diamonds that have approximately 0.50 total carats. This will hang beautifully from its 18-inch 14-karat white gold chain.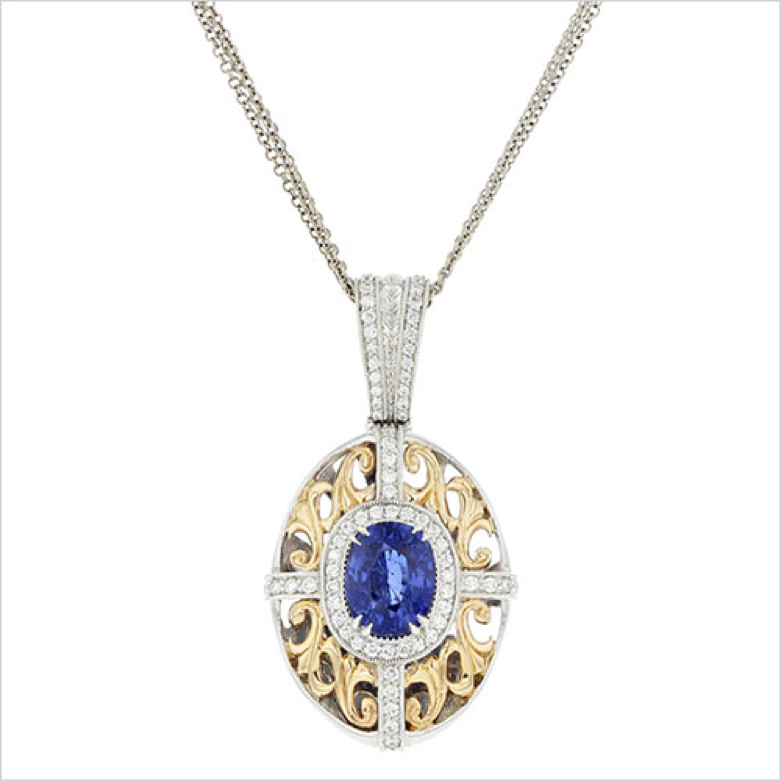 Each vintage and antique item shows painstaking workmanship and intricate design. These pieces are more than beautiful jewelry, they are works of art and have captivated people through the decades.
Art Deco Diamond Ring
This platinum ring has a round brilliant cut diamond weighing 1.02 carats (J in color, VS2 in clarity) and flanked by 4 full-cut diamonds weighing a total of 0.18 carats. It echoes the elegant art deco period that ushered in one of the most vibrant eras in art.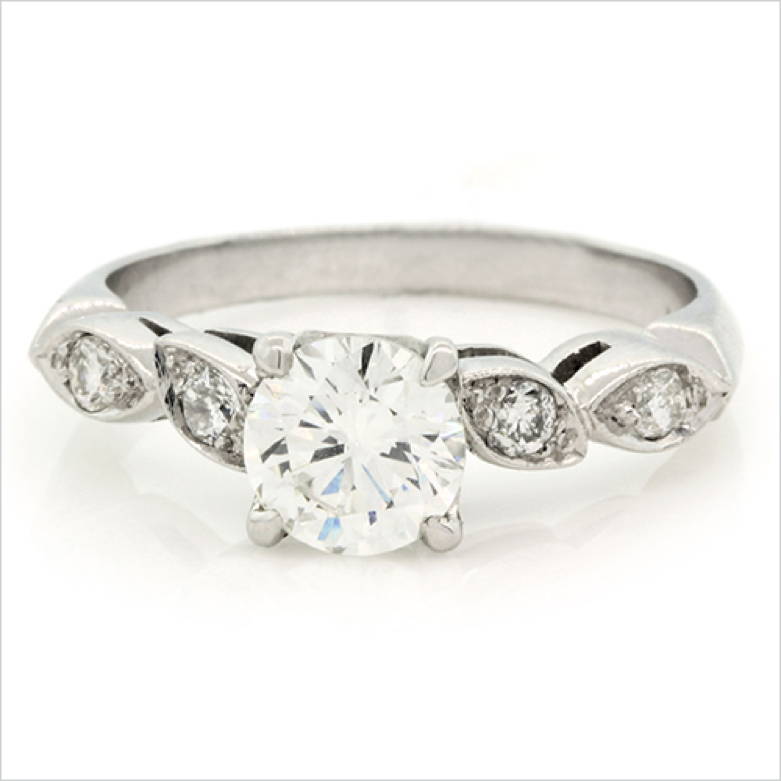 At the Sylvan's, we believe you'll find a piece of jewelry that speaks to you with a voice that has carried through several generations. Whichever item you choose guarantees an artisan's lifework lives on, while showing others your eye for the unique.