Should I Have My Jewelry Appraised?
If the last time your jewelry was appraised was more than five years ago, it's time to get a new one. Regular appraisals protect and preserve the value of your jewelry. At Sylvan's, this is something we've been doing for over 120 years. We guarantee it will be easy, accurate, and help you protect your important jewelry.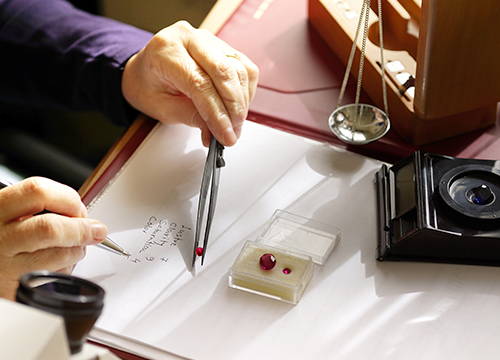 Why Do I Need a Jewelry Appraisal?
An appraisal will set the value of your jewelry. It's an important step in protecting you if your jewelry is lost or stolen. In addition to knowing its value, your appraisal will give you a detailed description of your jewelry and other important information most insurance companies need to cover your jewelry. During the appraisal, our Certified Gemologist Appraiser will also be checking for small damage or loose stones so you can fix the problem before you lose anything.
Who Conducts Appraisals?
You'll want to be sure your appraiser has important credentials like a Certified Gemologist Appraiser (CGA) from the American Gem Society, or be a member of one of the appraisal societies that dictate ethical appraisal practices. Above all else, you want to go to a jeweler you trust.
What Should Your Appraisal Contain?
Your name and address
Type of jewelry
Materials the jewelry is made of
Type of gemstones used
The stone's grading
A color photograph
Most recent precious metal values
Origin of jewelry or designer
Reason for the appraisal
Signed and dated by the appraiser
Regardless of where you get your appraisal done, it's important that it is done regularly and by a credentialed expert. At Sylvan's, our appraiser is a Certified Gemologist Appraiser with the American Gem Society, and a Graduate Gemologist with the Gemological Institute of America. He's been at this for over 30 years, and is ready to supply you with the information you need for insurance purposes, to settle estates, and to facilitate liquidations. If you have any questions or you would like to schedule an appraisal appointment, please contact our team here.