Giving Back: Our Favorite Philanthropic Jewelry Brands
In companies, big and small, across 7 continents, employees and owners spend an inordinate amount of time discussing profit, income, and projection statements. But there are also companies that discuss all of that and make sure to devote time and money to giving back.
We are proud of all of the jewelry brands we represent but below are two of our favorites committed to make giving equally as important as receiving.
This company has made a vow to leave the world a better place than they found it. Bali's bamboo forests have been a muse of sorts for the company's jewelry designs since its origination, and is the reason for Hardy's devotion to the environment.
The lush forests of Bali are an important resource for the country, and their preservation has been the mission of John Hardy's since 2007. The "Wear Bamboo, Plant Bamboo" project sows a new seedling for every $200 sold from the brand's Bamboo collection. This effort helps purify air and water in the forests, while teaching local families how to plant seedlings and training them in sustainable cultivation and conservation.

Last year, John Hardy celebrated the sowing of their 1,000,000th seedling with CEO Robert Hanson declaring that "from the materials used in our pieces to the construction and operation of our workshop in Bali, sustainability is woven into every aspect of our brand." Each design in the collection is engraved with the number of seedlings planted from the purchase of that particular piece. It's a creative way to improve to the environment by an inventive company.
For years, Hearts on Fire has concentrated its donations by giving big to The American Heart Association, St. Jude's Research Hospital and the Make-a-Wish Foundation. But like so many local brands, Hearts on Fire also supports the Boston neighborhood they call home. Since 1995, Susan and Glenn Rothman have been consecutive chairs and establishing members of The Lenny Zakim Fund, or LZF.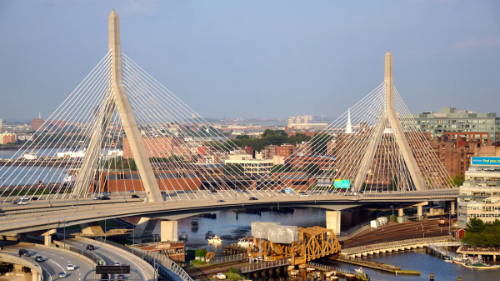 The Lenny Zakim Bridge in Boston
LZF gives aid to 60 grassroots community based organizations that are often overlooked by larger funds. Each year, LZF allocates recipients financial support, legal assistance, education and training.

This support energizes the organizations and means they can do even better work for the Boston community. The Rothmans' personally use their business knowledge with the talents of the entire Hearts on Fire team to help these organization improve their advertising, management, finance, and sales skills.
These are just a few of our favorite brands that, like us, truly appreciate that we are all in this world together. What are some of your favorite companies that give back? Tell us in the comments below.