Why Old Fashioned Craftsmanship Continues to Thrive
Do what you love and you will never work a day in your life. We have all heard this quote widely attributed to Roman politician Mark Antony. In the world of jewelry, doing what you love often means taking the time to do it painstakingly well. Many brands produce pieces with care and craftsmanship throughout the process, but each piece is an exact replica of the original and follows a specific process.
Then there are the makers. Brands who forego the logo as the mark of their brand and instead focus on the process of creating jewelry. Often using the same metal-working techniques used over the last thousand years, these brands create unique pieces of jewelry with sophistication and intricacy. Each individual piece is a work of art and varies slightly from anything else the maker has created. Here is a look at two unique brands creating modern jewelry with old-fashioned craftsmanship.
Konstantino is a brand influenced by Byzantine architecture and ancient Greek culture. Established in 1994, their focus has always been on creating one-of-a-kind pieces that reveal a modern aesthetic to ancient designs. Individually hand finished by expert artisans using traditional techniques, each piece from Konstantino is unique. Combining unique gemstones and finishes with traditional metalworking techniques in gold and sterling silver, jewelry from Konstantino fuses old craftsmanship with modern identity.
Named for Greek gods, each of the collections has its own identity. Look no further than the Electra collection for a prime example of craftsmanship. Combining stunning Lapiz Lazuli with sterling silver and intentionally placed 18k gold, the collection demonstrates the very best of Konstantino's commitment to craftsmanship and form, creating unique modern jewelry using ancient methods.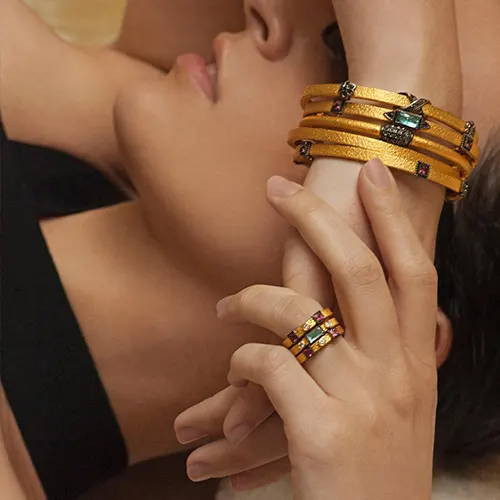 Marco Bicego jewelry creates every piece by hand in their Italian workshop incorporating the traditions passed down from father to son. Every step of the production process is done in-house, ensuring the highest quality jewelry. From smelting their own 18k gold to engraving each piece with traditional techniques, the details of production are all focused on creating stunning pieces of wearable art.
The brand's signature method of hand engraving produces a brushed texture on the gold jewelry, providing a finish that is instantly recognizable. Using an ancient tool known as a "bulino", each piece of gold is touched by a craftsman to create a truly unique design. With a focus on traditional techniques handed down from father to son, mixed with a modern eye for design and function, Marco Bicego is creating jewelry that is unmistakable for its quality.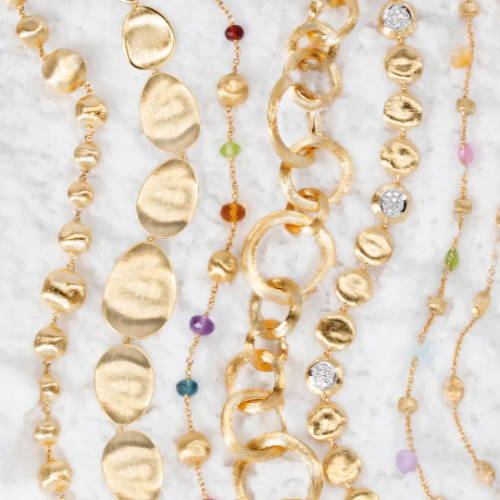 While some brands may survive on mass production and simple design, those who chose to forego the allure of volume and focus on the craftsmanship of old-world techniques are carving out a modern brand of jewelers. Combining the trained eye of a creator with heritage and unique design, handmade jewelry is crafted in an environment of joy and respect. Each piece is unique and cannot be duplicated. The designs are created with heart and the love for the process is part of the reason they are thriving.
Explore true jewelry craftsmenship here or in our store in Downtown Columbia.