How to Layer Your Jewelry
With Fall and Winter on the horizon, our wardrobe changes to seasonal pieces and layers to not only keep warm but express our personal style. Layering is no longer just for your clothes. With unique jewelry pieces as much a part of our expression as that chunky sweater paired with your favorite vintage jacket, the options for layering jewelry are endless.
From earrings to necklaces to rings, it's possible to layer, or stack, any of your jewelry. There are a few simple guidelines to help you pull off the layered look in style and help you transform even the simplest designs into show-stopping statements.
How to Start Layering Jewelry
It's best to concentrate your layering efforts on one or two parts of the body. Layering jewelry pieces on your neck and fingers, or wrists and ears keep the cool and sophisticated appeal without the appearance becoming messy or overwhelming. Creating a balanced look is essential with layering, paying special attention to spacing. Each of your pieces should complement the next, keeping a clean appearance and staying away from a cluttered or tangled look. The goal is to have each piece of jewelry displayed naturally without distracting from the next.
Mixing bold statement pieces with delicate ones creates variety and keeps everything from looking weighed down. Too many chunky pieces create a cluttered look and distracts from the balanced layered look you are working towards. Mixing materials is as important as mixing size. Metals, textures, stones, all create a more natural and interesting feel to your layers. Things don't have to perfectly match every time, after all, the most important rule of this style is have fun!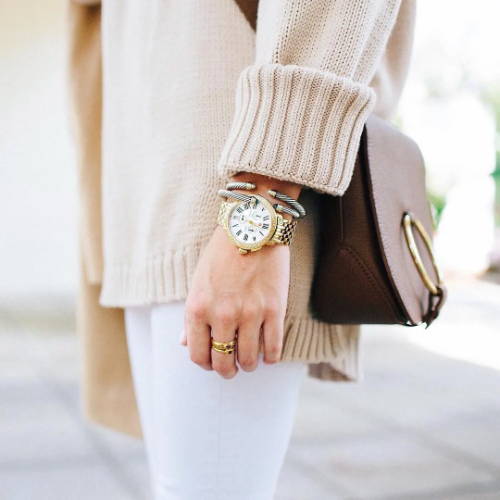 Photo credit: Michele
Now that we have established some rules to get you layering like a pro, let's look at some ideas for individual pieces in three big categories, bracelets, necklaces, and rings. With unique shapes and interesting details, today's on-trend bracelets are meant for mixing, matching, and stacking. When stacking bracelets, it is important to keep the remainder of your jewelry to a minimum. Bracelets are eye-catching larger pieces. Toning down the remainder of your jewelry places the focus on your layered look. Seeking out collections that are made to be worn in layers and stacks will provide you with the freedom to choose pieces that feel unique and individual to your personality while assuring a cohesive and stylish pairing.
Adding a watch to the mix with a few bracelets creates a perfect work or play stack. Small, dainty chain bracelets go well with larger metal cuffs or bangles, which are perfect for work or play. When choosing bracelets, look for differences in shape and thickness to choose pieces that are complementary and showcase the variety of your style.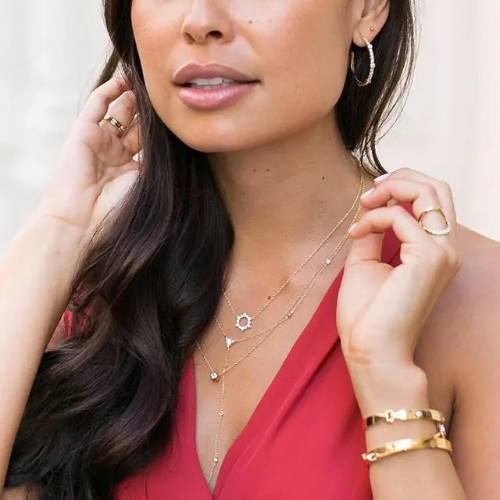 Photo credit: Hearts On Fire
Layering necklaces can act as a smart strategy to reinvent the top half of your wardrobe. Dressing up a look for a night on the town, or providing a more casual appeal for your favorite weekend brunch spot, multiple necklaces provide variety to every activity. When stacking or layering your necklaces, consider the neckline of your outfit. A simpler neckline allows for the use of more decorative necklaces. Plain colors and neutral tones tend to work best for the layered necklace look, allowing your individual jewelry choices to speak for themselves.
When wearing a V-neck, making the second layer longer than the plunge of the V-neck brings the entire look together and takes the focus away from any one individual piece. The ability to mix length, thickness, and ornamentation when stacking necklaces means the sky is the limit to what you can create.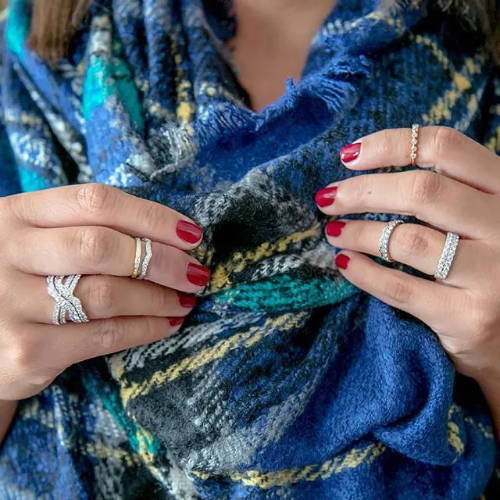 Photo credit: Hearts On Fire
Stacking rings is such a unique and fun way to create the layered jewelry look, but it often provides the most anxiety for our friends and guests. How do you stack rings without going overboard? We've got a few surefire ways to pull off the perfect ring stack. Create a commemorative stack on a specific finger, adding a ring for an anniversary, the birth of a child, and other big moments in life.
Sometimes one or two rings are all you need, but always enjoy the days when you feel the need to go full-bohemian with small rings on each finger and knuckle rings mixed in for good measure. While you are feeling adventurous, remember that rule about not wearing silver and gold jewelry together? When it comes to stacking rings, you can throw out the rule book. Mixing metals can create a cohesive glow that highlights your wardrobe as the seasons change. Want to mix in a bold stone ring or a diamond band? Go for it. Geometric designs can complement stone rings to provide a playful and sophisticated look to stacked rings.
Whether you are brand new to the layered look or you stack jewelry like a seasoned pro, it's important to stay true to your personality. Layering provides versatility, so bringing your authentic style helps ground the look in who you are. Some of us are a little more conservative and others explore new styles and fashions more freely. No matter where you fall on the spectrum of stacking, if you are looking to add pieces to your collection to highlight the layered look, stop in to explore our great selection of items that will have you looking fabulous this fall.