Before you bought an automatic timepiece, you may not have known that watch winders existed. The intricate spring mechanism which powers your new automatic timepiece is designed to stay fully wound on the movement of your wrist while wearing the watch. However, once you take your watch off, the power reserve kicks in to keep things running smoothly.
What is a Watch Winder?
A watch winder simulates the movement of your wrist to keep your watch fully wound when not on your wrist.
Should I Buy a Watch Winder?
If you purchased an automatic timepiece and plan to wear it everyday, a watch winder is not necessary. If you plan to rotate through your collection or only wear it every couple of days then a watch winder is a great tool to help keep your watch wound and displaying the correct time.
While your automatic timepiece is designed to stay fully wound while you move throughout your day thanks to the natural turns and movements of your wrist, once you remove your watch it will only continue running for one to two days depending on the power reserve. A watch winder will move your watch in accordance with the manufacturer's specifications to keep it fully powered and ready to wear at any time. The complicated mechanism that powers your watch requires oils and lubricants to continuously move. When your watch stops moving it has to be reset as the mechanism has stopped flowing. Over time the oils and lubricants in your movement can congeal if they routinely stop and start, causing your watch to cease and requiring expensive maintenance and repair. A simple watch winder can help avoid this problem by keeping your timepiece running and flowing.
How to Prevent Excessive Wear On Your Automatic Timepiece
You might be wondering why you would need a winder when you could just wake up every morning and manually wind your timepiece. While the simplest answer is that you will likely forget at some point to wind your watch in the morning, the more complete picture is that manual winding puts excessive force on the movement of your timepiece. Over time this manual winding puts wear and tear on your watch that it does not receive when kept in perpetual movement. This stress and extra force placed on your timepiece over many years could require manufacturer repairs to the movement. Winding is also an unnatural motion which further disrupts the flow of your automatic movement.
The best way to prevent the extra stress of repeatedly winding your timepiece by hand is to place it in a watch winder. The motor of a watch winder is carefully calibrated to turn your watch clockwise, counterclockwise, and bi-directionally to keep your timepiece fully powered and in-motion, reducing stress on the movement over the lifespan of the watch.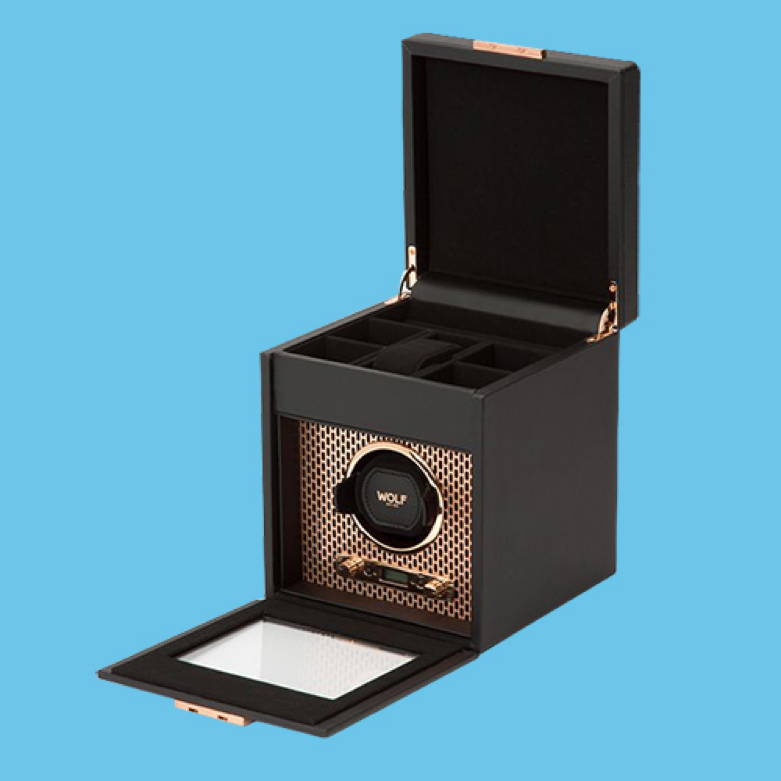 Protecting Your Timepiece Investment
The initial fear is that a watch winder is an expensive accessory needed for only the most luxurious of timepieces. The truth is that watch winders, as do timepieces, come in all different builds and price points. By ensuring that your watch remains in optimal operational condition at all times, a watch winder lengthens the time between necessary manufacturer maintenance. If your timepiece includes a perpetual calendar or moon phase indicator, a watch winder is especially useful. These intricate complications are often difficult and time-consuming to reset if the movement stops.
A watch winder keeps your timepiece properly wound, avoiding a time-intensive and complicated reset process for your favorite complication. Additionally, keeping your watch in a dry, safe place and reducing the risk of scratches and exposure to spills, oils, and other chemicals are additional protections provided by a watch winder. Countless hours of attention went into the creation of your timepiece; keeping it fully powered and wound guarantees it is ready to go any time you place it on your wrist.