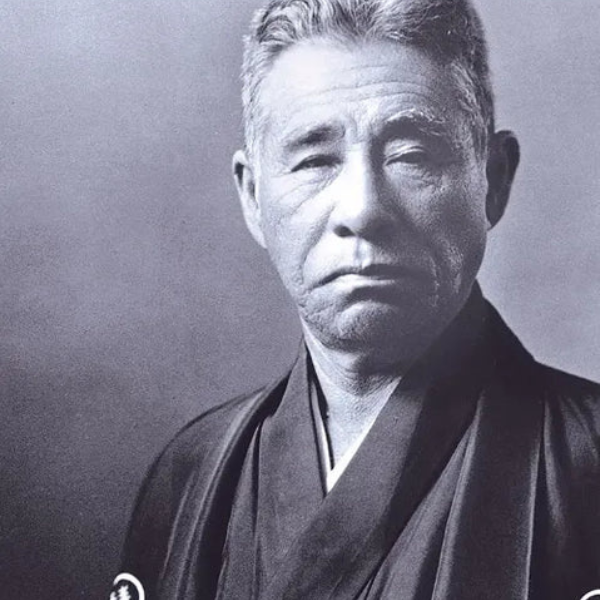 You've mostly likely overheard the name Mikimoto at a friend's party or in a fine jewelry store or even on a PBS documentary, and often exclaimed as "these are my Mikimotos," but what makes the brand synonymous with the world's finest cultured pearls?
Since 1893, 4 years before Sylvan's established itself in Columbia, South Carolina, Kokichi Mikimoto founded his company with the dream of adorning the necks of women all around the world with pearls. Mikimoto had been an entrepreneur since the young age of 11 when his father became sick, propelling him to seek opportunity in an ever changing and modernizing world. He took a unique interest in his hometown's most famous export, Ise Pearls. Because natural pearls were in such high demand, they were extracted at an alarming rate nearly causing extinction to the oysters themselves. Thus, Mikimoto created an alternative way of cultivating pearls through the evolution of sustainable, protected oyster beds.
A portrait of Kokichi Mikimoto, Courtesy of Mikimoto America
As a perfectionist, Mikimoto was taken aback by the pearl industry's indifference for color, shape and quality. He learned that Akoya oysters formed the finest pearls in the world. He researched methods of introducing particles into the oysters that helped them to create lustrous, perfectly round gemstones. In 1893, after many years of blunders and natural disasters, Mikimoto and his wife found the company's first pearl in their oyster beds.
With his dream finally becoming a tangible gift, Mikimoto was granted the first patent for cultured pearls in 1896. He founded his flourishing business on Oijma Island, now more appropriately known as Pearl Island. In the years to come, Mikimoto continued to advance the science of pearl development and conquer new challenges such as the cultivation of the South Sea pearl.
Over time, the world became obsessed with Mikimoto's creations. In 1910, a traditional Japanese fan and screen with Mikimoto cultured pearls was showcased at the Anglo-Japanese Fair in London. In 1927, Kokichi Mikimoto met fellow inventor, Thomas Edison, at his estate in New Jersey. After admiring Mikimoto's work, Edison exclaimed, "There are two things which couldn't be made in my laboratory – diamonds and pearls." His influence stretched even farther during the 1939 New York World's Fair, which exhibited the Philadelphia Liberty Bell bedazzled with 12,250 pearls and 366 diamonds and was nicknamed "the Million Dollar Bell". The bell is now located at the Mikimoto Pearl Museum in Japan.
The Pearl Liberty Bell, Courtesy of Mikimoto America
As the inventor of cultured pearls, Mikimoto exemplified Japan's reputation for quality exports and helped to build the country's global trade network. Upon his death at the age of 96, Mikimoto was bestowed the Grand Cordon of the Order of the Sacred Treasure. Today, his brand and his vision continue to grow with a company's still passionate superb quality and classic design.
So, Mikimoto was the first to craft the cultured pearl, why does that matter?
It's important to note that Mikimoto enraged a lot of people during his journey to develop the world's finest cultured pearls. At the time, the world's pearl market was made up of primarily natural pearls which were costly to extract and even more expensive to purchase. When cultured pearls were introduced to the market, they were more stunning, identically round, and cheaper than their competitors. Mikimoto sent a message to other dealers in 1932, by putting inferior pearls up for discussion at Kobe Chamber of Commerce. Foreign journalists based in Kobe telephoned his message across the globe. Mikimoto was then sued by other merchants for advertising his pearls as "natural pearls". The lawsuit led to the invention of the term "cultured pearl" to help keep his pearls separate from the rest of the world.
Ironically, now, when someone asks "Are those cultured pearls?" they are actually asking, "Are they real?" Originally, the term was meant to put down Mikimoto pearls as unnatural (and thus not as prestigious) but the definition has morphed over time due to the overwhelming number of fake pearls for sale. Mikimoto continues to uphold its founder precise eye for detail and guarantees that all of their pearls are truly legitimate. In other words, you are guaranteed excellence when purchasing a piece made with Mikimoto pearls.
Visit our downtown Columbia location to hear more about Mikimoto and his outstanding work.