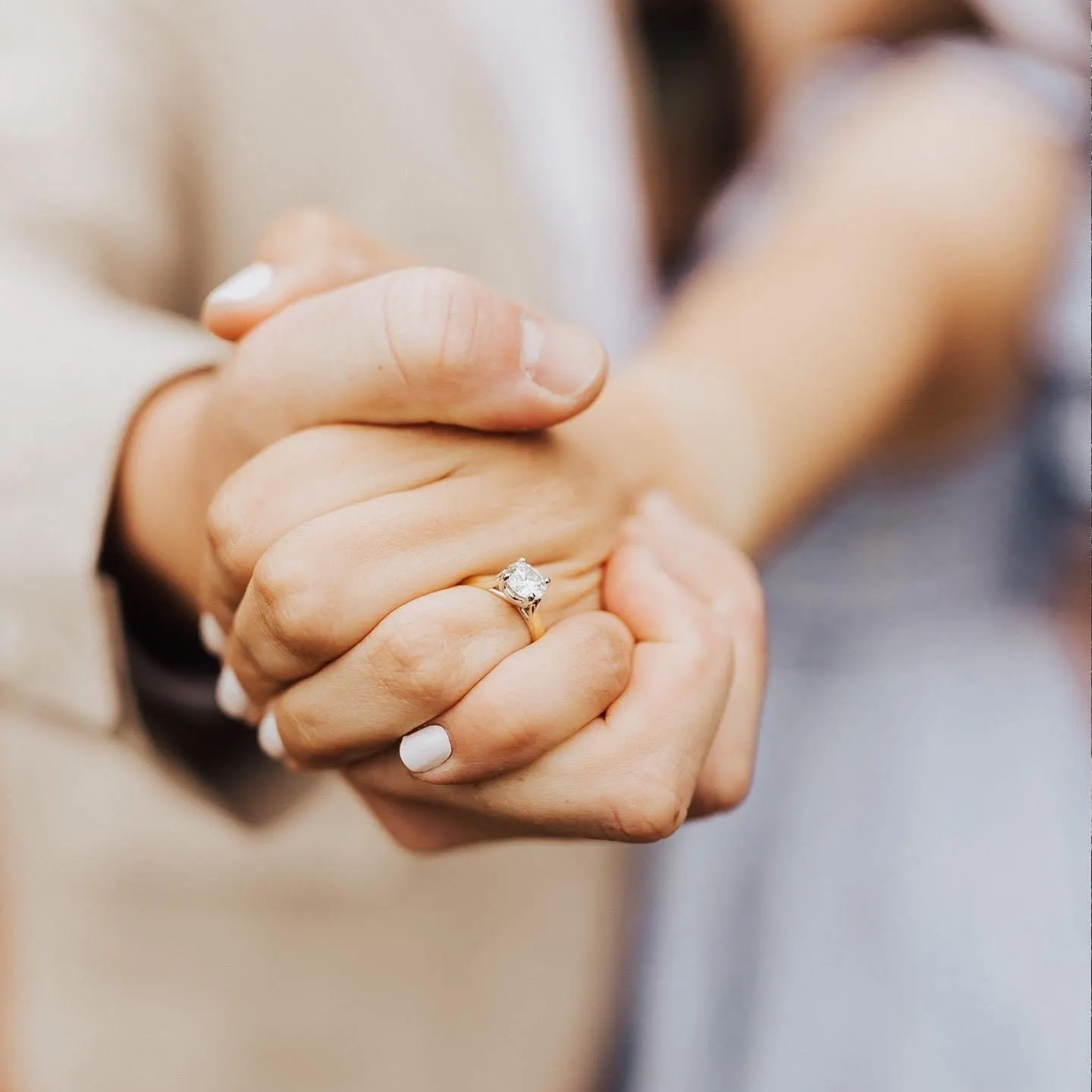 An engagement ring is a big deal. It is both a major purchase that requires time, effort and research, while at the same time being a purchase that impacts someone else more than it impacts the buyer. Traditionally, someone would come to a jeweler and pick out a stone and a setting and then hide the ring, waiting for that perfect moment to pop the question. Today, however, with nearly 2 of every 3 couples living together for extended periods of time before marriage, and with the modern relationship dynamic of shared finances and purchasing power, a new question about choosing an engagement ring has emerged. Should you bring your soon-to-be fiancée along to help you pick their ring? To help you decide, here are some benefits to shopping together and to shopping alone.
Maybe you live together, share a bank account, or simply do not trust yourself to stay on budget. There are countless reasons why shopping for an engagement ring together makes perfect sense. A few are more strategic than others. For example, shopping together will allow you to get an idea of their favorite style of ring. You will learn if they want a larger carat stone or a cleaner one, if the larger stone looks good on their hand, and whether they wants a thin band with little adornment or a larger band bedazzled with baguettes. One key piece of advice is to decide on three or four styles that they truly loves and then leave the final decision up to you, keeping a little of the mystery for that very special proposal.
One thing to consider when shopping together for an engagement ring is to prevent the day from becoming "just another shopping trip". You are, after all, looking for a ring that symbolizes your love and comes with the ask to spend the rest of your lives together, so a little extra effort is critical. Consider making your ring shopping adventure a full-day outing. Start with brunch and relax a bit, you can start the conversation about what type of rings they like so you have some ideas when you get to the store. Prepare to spend some time at the store, you are not there to pick up milk and eggs, you are shopping for a piece of jewelry that will represent your desire to have a life together. After your time at the store, consider spending the remainder of the day doing something you both enjoy -  dinner, a movie, a walk in the park, something to re-set and end the day on a high note. While they may not know the ring you ultimately choose, they're going to associate how they felt the day you went shopping with what you select.
Maybe you have decided that every element of the proposal will be a surprise, including the ring, and you want to shop for it alone. This is the more traditional route to buying an engagement ring, but it does not mean your fiancée-to-be will not have some serious input. You just have to listen for it. In the time leading up to your purchase, we have a few suggestions.
Listen to the important people in their life

Trust us. Your fiancée-to-be has told their sister, mom, best friend, or another important person in her life about her dream ring. If they haven't, enroll them yourself and have them start doing a little digging on your behalf to find out their favorite cut and style. Have them make your fiancée-to-be try on rings they own to help you accurately determine her size.
Pay close attention to her reaction around married/engaged people they interacts with regularly
This is one of the easiest ways to determine whether you are on the right path when shopping for an engagement ring. Solicit feedback from your fiancée-to-be every time you run into a married or recently engaged friend. Did they like the ring? Too big? Too bold? Too delicate? Make mental notes and start to keep track of the elements they really likes, and the ones they do not.
Consider their personal style and trendiness
Is your fiancée-to-be a trendsetter, or maybe a little more boho, possibly very classic and conservative? Paying attention to how they dress and accessorize are extra touches that can help a jeweler translate their personal style to a ring they are sure to love.
Whether you decide to shop with your significant other or go it alone when choosing an engagement ring, the key is to take your time. Come to a jeweler, like Sylvan's Jewelers, who is equipped with ideas, information, and a willingness to listen and learn. You will be sure to leave with a ring your fiancée-to-be will treasure forever.