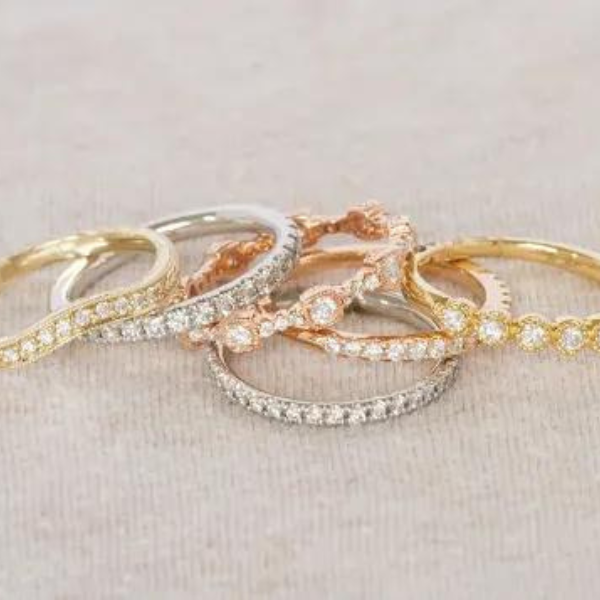 It may no longer be engagement season but it is officially time to start planning the big day. So, we thought what a better way to ease the tension for all those recently engaged than to offer some real advice on your next big purchase – her wedding band.
Your fiancé researched and agonized over the metal type, the gemstone, the time and place to propose and so much more - and now, it's your turn. Even though your engagement ring will always take center stage on your left hand, choosing the right wedding band is just as important to the overall look (and the sentiment!).
Your wedding band should not only be the finishing touch to your engagement ring, it should represent the commitment you will make on your big day. Depending on your preference, your wedding band can either enhance your existing ring or stand on its own.
To help you find the perfect band, we've pulled together a few tips and matched our top 3 engagement ring styles with modern and unique band options to give you a peak at a few of the styles we have in-store.
A Few Tips for Narrowing Down Your Choices
Like flowers and cake, there are thousands of options to choice from and since your wedding band is one of the few pieces of jewelry you'll wear every day, it's best to have an idea of what you find attractive before you visit one of our store.
Here are a few simple questions to help you narrow your options with ease:
Do you want your wedding band to be made from gold color as your engagement ring? White gold, yellow gold or rose gold?
Is your style typically minimalistic, extravagant or artsy?
Would you prefer your wedding band to showcase diamonds or colored precious stones?
Do you want your wedding band to be similar to your significant other's?
You can also narrow down you choices by bring in a few images of rings that you have pinned on Pinterest or seen in our Bridal collection. Once you have a general idea of what you like, it's time to start trying on in-person. Give yourself between two and three months prior to your wedding date to select and purchase a ring (If you are in a pinch, we can certainly accommodate a slimmer time frame!). You'll need time to browse and maybe even get the opinion of family and friends. If you are looking to have a custom wedding band created or would like to have your ring engraved, you will need to schedule an appointment with our service department in advance to make sure we have everything ready with time to spare.
It's also important that you try on bands that aren't on your Pinterest board. Like with dresses, the only way to rule out a mermaid gown or teacup dress is to try it on. We can pull together all the rings you like and suggest a few more based on how you feel about the questions listed above. Our staff has years of experience and will work to help you find your ideal wedding band.
One last thing – don't forget about comfort! You may love the style of a band, but after trying it on, find that it's just not a good fit. Wear it around our store for a few minutes or try writing your name or texting on your phone as a comfort test. You can always work with our service department to adjust any band to fit.
Our Favorite Engagement Ring and Wedding Band Pairings
If You Have a Solitaire Engagement Ring:
A solitaire ring, whether its a oval, princess, or emerald cut, is the most adaptable ring style out there.
If you are looking for a more traditional, simple look, try one of our diamond eternity bands like this one from Memoire. Eternity bands can showcase diamonds that go half way, three-quarters, and completely around the band.
If you are looking for something a little more in style, try on a ring with a metal type that's different from that of your engagement ring like the rose and yellow gold options here from Hearts On Fire.
Matching the stones that are in your engagement ring in your wedding band, also allows you to change up the metals and create a stunning look - like this curved, yellow gold band:
If You Have a Halo Engagement Ring:
Halo engagement rings are one of the most popular styles in our store because of their value proposition (big look, bigger value). That being said, halo engagement rings tend have a lot of personality on on their own so we would suggest that you pair yours with either an all metal band or one with a cleaner design (with the same sized stones as the halo).
You can always choose to mix metals styles like with this Hearts On Fire engagement ring and rose gold band. It's the ideal way to express your fashion forward style.