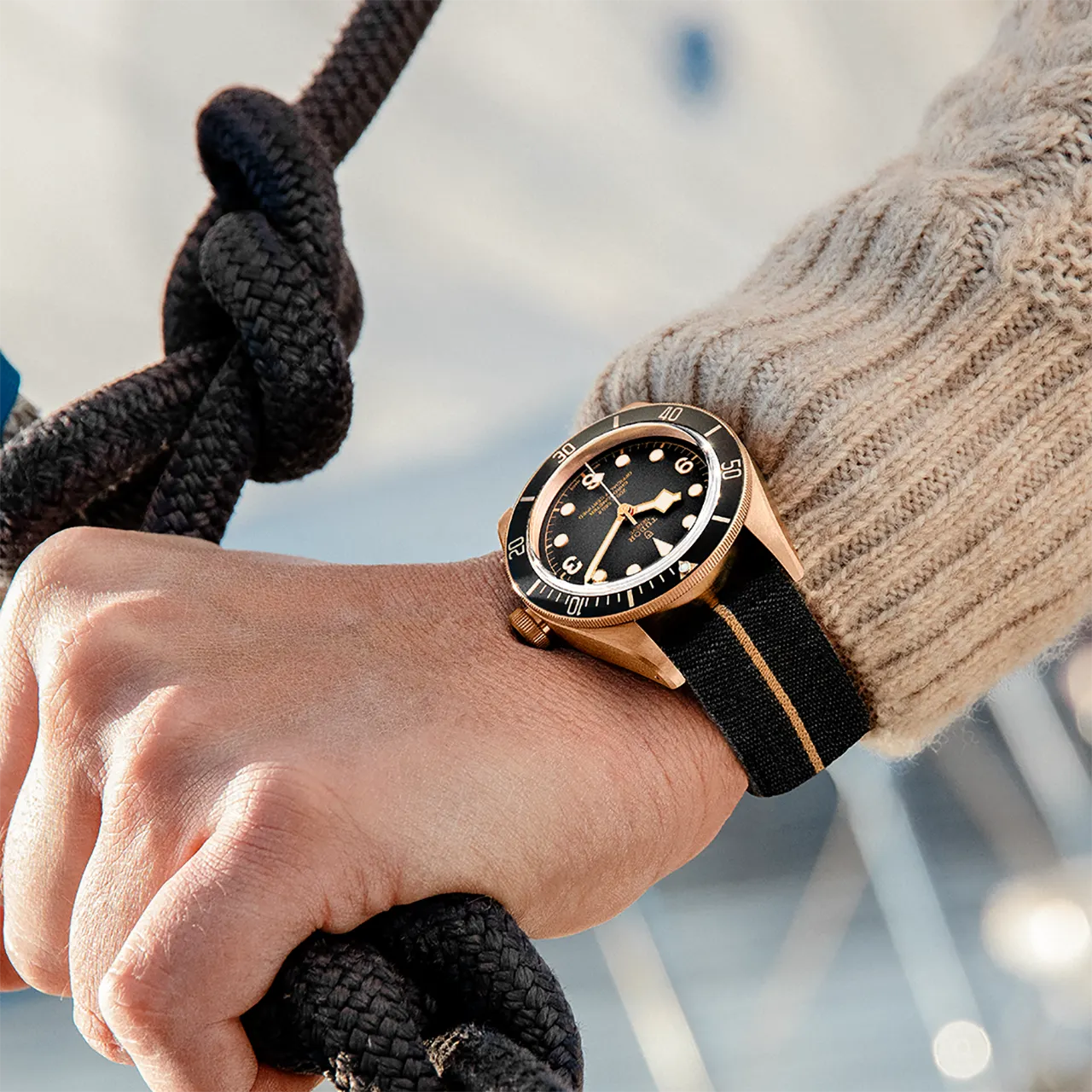 If we are being honest, it has been a long two years. Through a multitude of changes, one thing has become apparent, comfort never goes out of style. When it comes to precious metals, gold and silver are formal, but bronze, bronze evokes feelings of earthiness, being grounded, security, and comfort. TUDOR has made a Black Bay Fifty-Eight Bronze edition watch previously, but this past year they decided to go a little further, and have created their first bracelet entirely from bronze. In a year where many are seeking comfort in everything, this move by TUDOR is both grounded in history and uniquely modern.
TUDOR constructed the new Black Bay Fifty-Eight Bronze in a nod to the metal used on old deep-sea diving equipment. Bronze is known for the unique patina that forms over time and is unique to each piece, something which will allow each timepiece to take on a dynamic character perfectly suited to the wearer. Bronze does present some issues, however, and the craftsmen at TUDOR carried out extensive testing and carefully manufactured each piece to allow it to operate perfectly while also changing with the unique environment around it, unlike traditional stainless-steel cases and materials. In another nod to the era of classic seafarers, the timepiece is designed for slim wrists and crafted in a 39mm case, appealing to vintage enthusiasts and those looking for a more compact option for a new wrist watch.
The material of the new Black Bay Fifty-Eight Bronze might be a throwback to a bygone era, but that does not mean that TUDOR created it without any innovation. New on this edition is a redesigned clasp cover, equipped with the new "T-fit" system providing 8mm of easy adjustment in the bracelet over five positions without the use of tools. The links, rivets, and clasp of the bracelet feature a satin-brushed finish, harkening back to the style of the 1950s and early 1960s, while seamlessly matching the bronze case. TUDOR recognized that although the bracelet is new, the bronze identity of the timepiece evokes a certain naval heritage. To provide an alternative option, each Black Bay Fifty-Eight Bronze comes with a complimentary woven fabric strap in addition to the bronze bracelet.
Designing a strap to compliment the bronze timepiece gave TUDOR the opportunity to "dive" in to their archives. When the French Navy used TUDOR watches, each timepiece was shipped to its final location without a bracelet. Members of the Navy were then fitted on-site with straps for their watches, often handmade out of materials available at their location. One example was a watch stored in TUDOR's archives which featured a strap constructed from a French rescue parachute. Inspired by this historical piece, TUDOR crafted a woven strap in the Jacquard technique which features a central yellow thread. This fabric strap provides an additional wear option for every Black Bay Fifty-Eight Bronze.
TUDOR did not make the Black Bay Fifty-Eight Bronze as a simply visual timepiece. Housed in the 39mm satin-brushed bronze case is the COSC certified MT5400 chronometer movement. With a power reserve of approximately 70 hours and waterproof to 200m, the Black Bay Fifty-Eight Bronze is fancy enough for a night out, but built for everything your weekend can throw at it and more. That is the ultimate comfort, a timepiece who can handle everything and still look exceptional. Would you expect anything else from a piece design to both age beautifully and evoke nautical themes from a generation known for toughness? Neither would we.