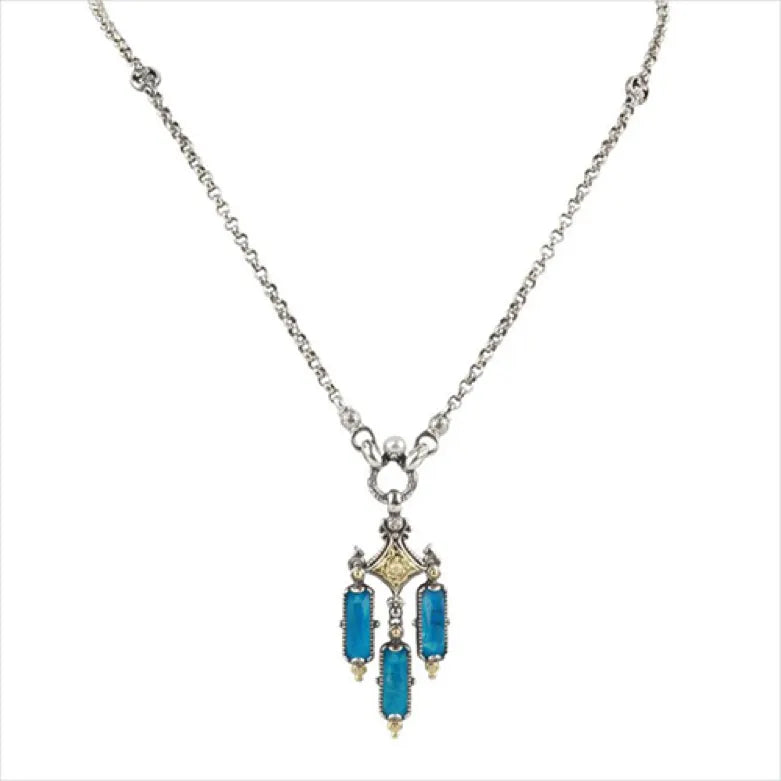 We all have that favorite pair of shoes that express our personality and we find any excuse to wear them or that scarf that we seem to pair with everything in winter. There is something satisfying about even the smallest bit of personalization and with jewelry, it can be as minor as your birthstone.
Gemstone jewelry is a conversation starter, standing out from daintier pieces while also working for everyday wear. The official return of gemstone jewelry is here, with people craving that personalized feel and the classic, versatile addition to your jewelry wardrobe that gemstones provide.
Whether you go big and bold with a solitaire ring or understated with a simple pendant necklace, gemstones provide a unique look to raise your fashion game. Here are a few of our favorite gemstone pieces.
Sterling Silver & 18K Gold Necklace with Chrysocolla Doublet
Using a bold gemstone is an easy way to dress up a basic outfit. This necklace is the perfect addition to your plain white T and blue jeans on an easy-going weekend. With a delicate mix of silver and gold in the necklace, the highlight is the blue-green hue of the chrysocolla. Chrysocolla is a copper stone ranging in color from light green to deep blue, making it the perfect versatile piece for any outfit. The longer silhouette of the gemstone coupled with the silver and gold is a classic Konstantino design, making this necklace a conversation starter for any occasion.
Sterling Silver & 18K Gold Ring with Chrysocolla Doublet
If the necklace with chrysocolla is the perfect piece to dress up any casual outfit, the chrysocolla ring is the showstopper. With classic designed sterling silver inlaid with gold, the craftsmanship and style are on full display with this amazing square cut gemstone ring. Surrounded in 18 karat gold, the blue-green hues of the chrysocolla shine. The intricately engraved pattern provides depth and delicacy to the ring, while the mix of precious metals makes it versatile enough to wear every day or to dress up your next big night out.
Marco Bicego 18K Yellow Gold & Mixed Gemstones Collar Necklace
For those days when you want to put a specific piece in the spotlight, the perfect choice is the 18K Yellow Gold & Mixed Gemstones Collar Necklace by Marco Bicego. Part of the Jaipur Collection, the piece is inspired by the tropical Indian sunset and the stone-cutting heritage of Jaipur. The collar necklace features rose cut cushion multi-colored gemstones in an 18K yellow gold collar necklace hand engraved by Italian artisans. The interplay of red, green, gold, blue, and more makes this necklace the perfect choice to pair with any outfit, instantly highlighting subtle tones and drawing attention to the craftsmanship of Marco Bicego.
Marco Bicego 18K Yellow Gold & Two Row Mixed Gemstones Ring
The Two Row Mixed Gemstones Ring by Marco Bicego is part of the Jaipur collection. The rose cut cushion gemstones are selected to resemble an Indian sunset and the stacking of two rows provides size and flair to this hand-crafted piece. Finished by Italian artisans in traditional Marco Bicego style, the brushed gold ring is highlighted by gemstones that pair well with any outfit and provide a casual alternative to plain band rings.
Suna Bros. Gemstone Rings
Suna Bros. has proudly produced gemstone jewelry in the United States for eighty years. They believe that color provokes an emotional response unique to each individual and that gemstones implore a similar reaction. With a commitment to brilliance in every stone they use, each piece will vary slightly in shape and weight to preserve the highest quality in every gemstone. Offered in platinum with diamonds, Suna rings highlight ruby and emerald. Each ring features a center gemstone surrounded by diamonds in a flower shape. The brilliant reflectivity of diamonds enhances the color and splendor of each gemstone. Set in platinum, these rings are simple, elegant, and spectacular, the perfect choice for a night out or to commemorate a special occasion.
Silver and gold shine, diamonds sparkle, and gemstones make a completely unique statement for every occasion. Whether you are looking for a simple addition to your everyday outfit, or a one-of-a-kind piece full of personality, gemstone jewelry is back in a big way. With quality craftsmanship and original takes on classic designs, you can highlight texture, color, and feel with a unique gemstone creation.